5 things to do in Bangkok
Thailand. A country that I wanted to visit more and more over the past few years but that I wouldn't think to visit that soon. However, I wanted to do something very special for my 25th birthday and that's what I did, celebrating it in Bangkok and spending 2 weeks visiting Thailand! If you followed my adventures on Instagram, you know I have spent 2 weeks visiting Bangkok, then Chiang Mai and Phi Phi Islands. As those 3 completely different places won my heart, I meant to present them to you in 3 distinct posts. Today, I present you the first place of this serie with 5 things to do in Bangkok!
Visit the temples Wat Arun and Wat Pho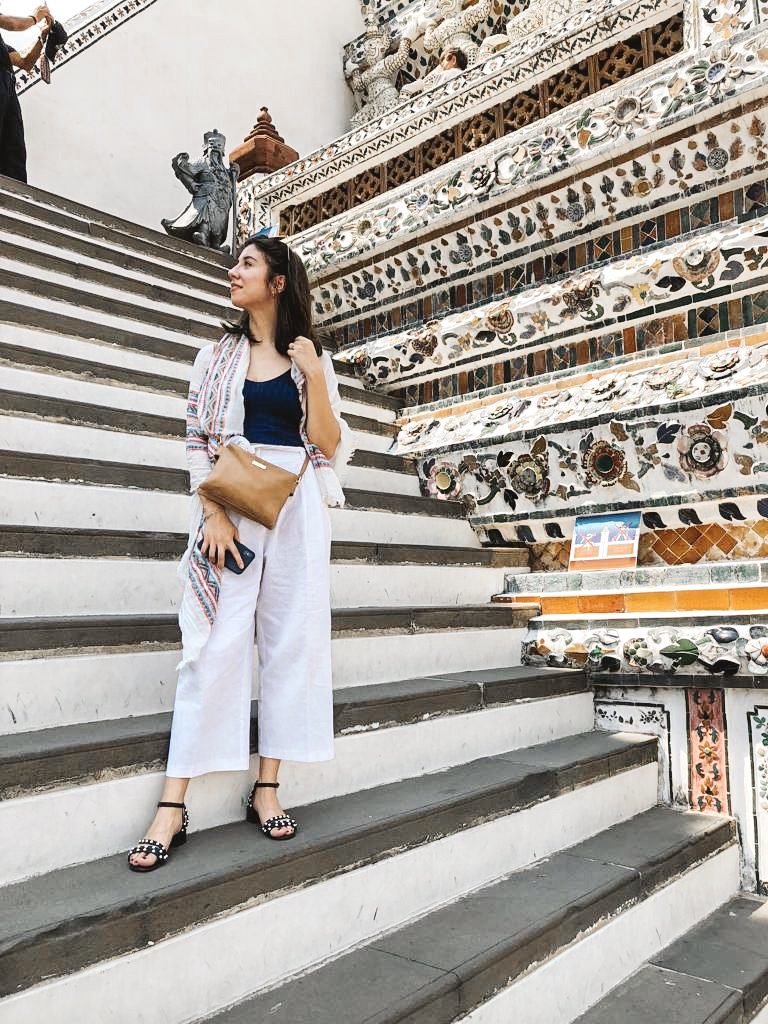 Visiting temples is a must-do in Bangkok. Wat Arun and Wat Pho, that are facing each other on the shores of Chao Phraya River, are the principal temples to visit.
Wat Arun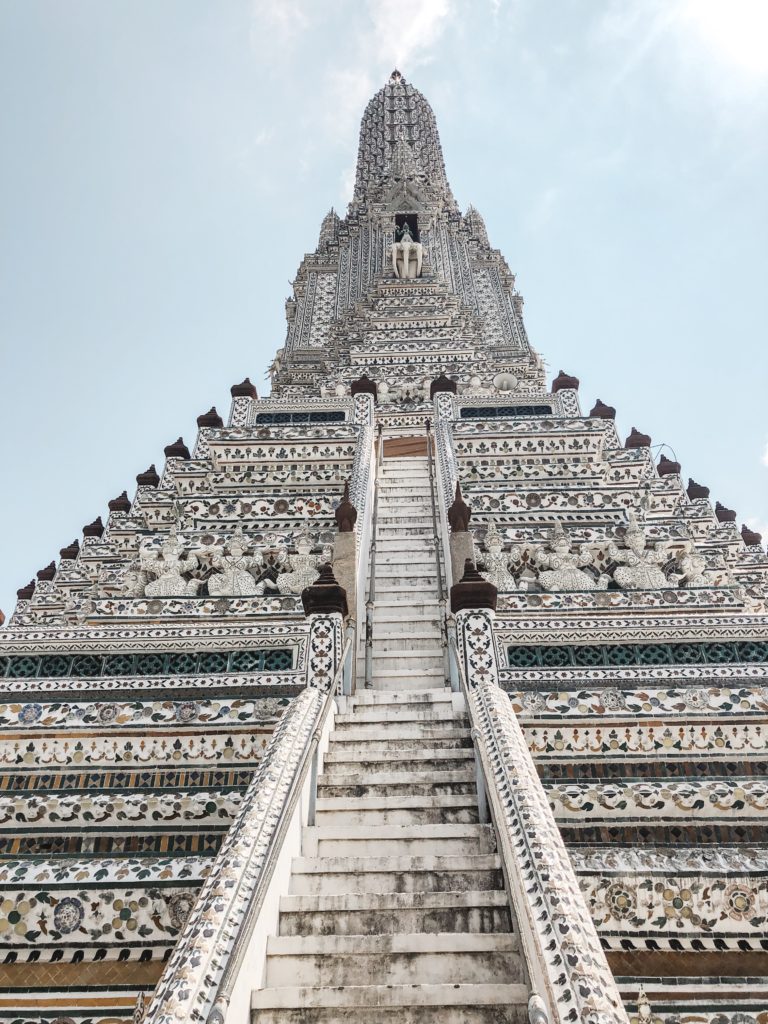 Wat Arun is located on the right riverbank of Bangkok. It is a huge white temple decorated with hundreds of floral mosaics. It is impossible to miss it as its main tower (Prang) is 82m tall! I loved the very peculair architecture of this temple, and mostly its white walls that perfectly reflected light. If I visited it during the day, it is also gorgeous to see at night as it is enlightened!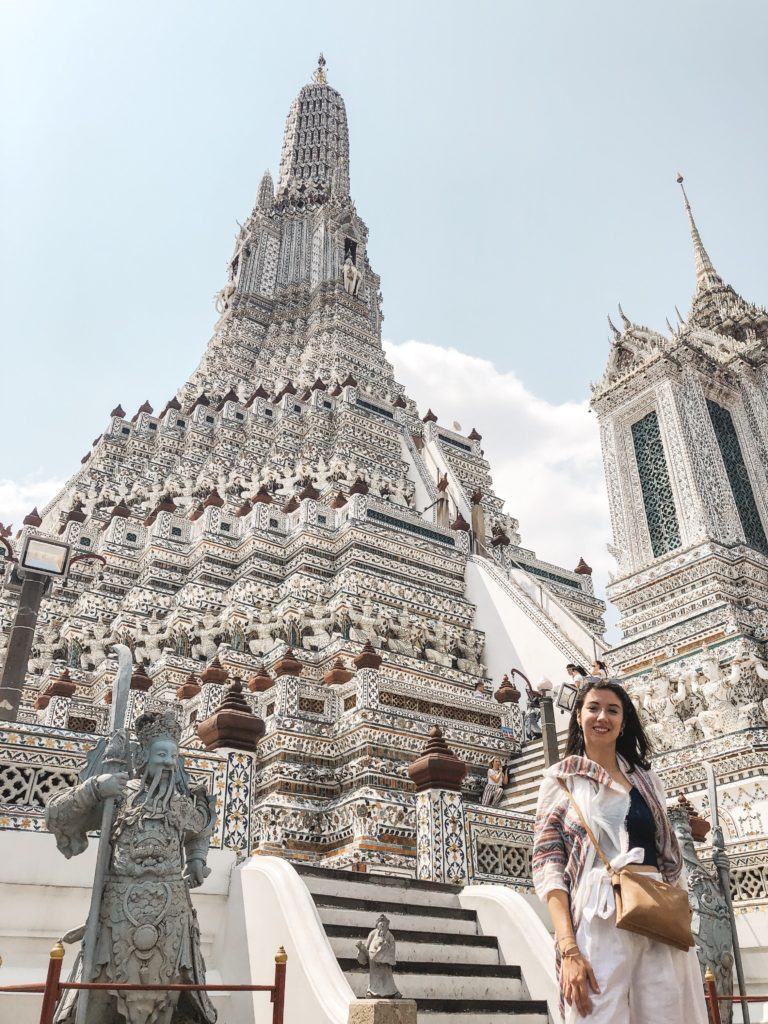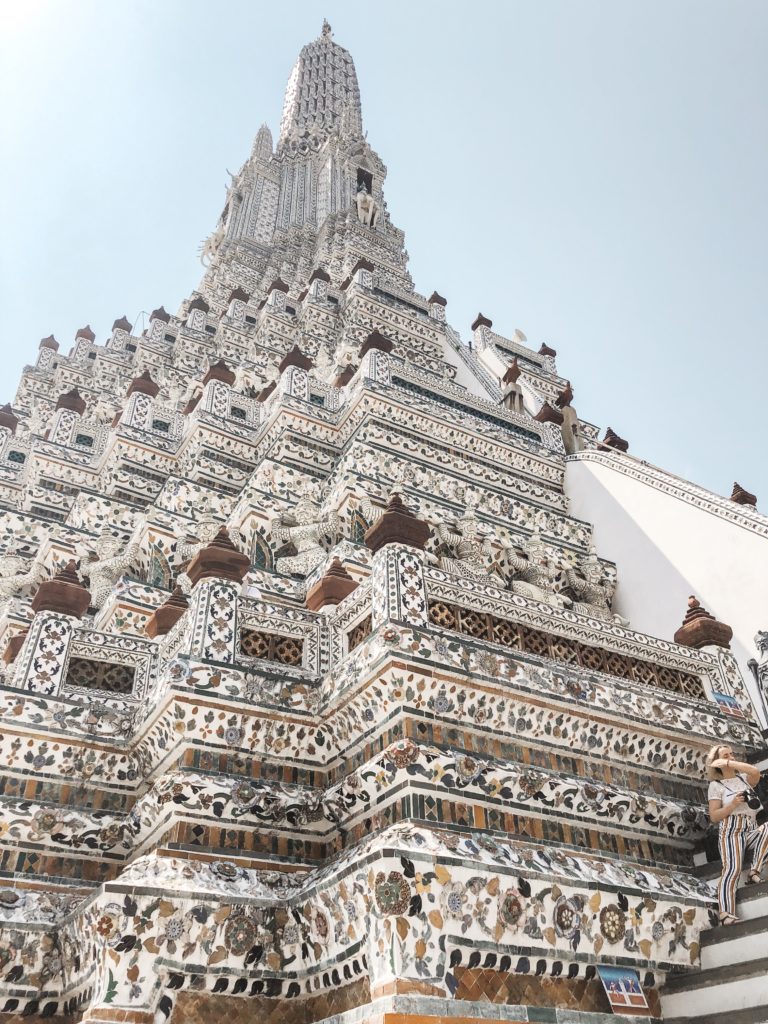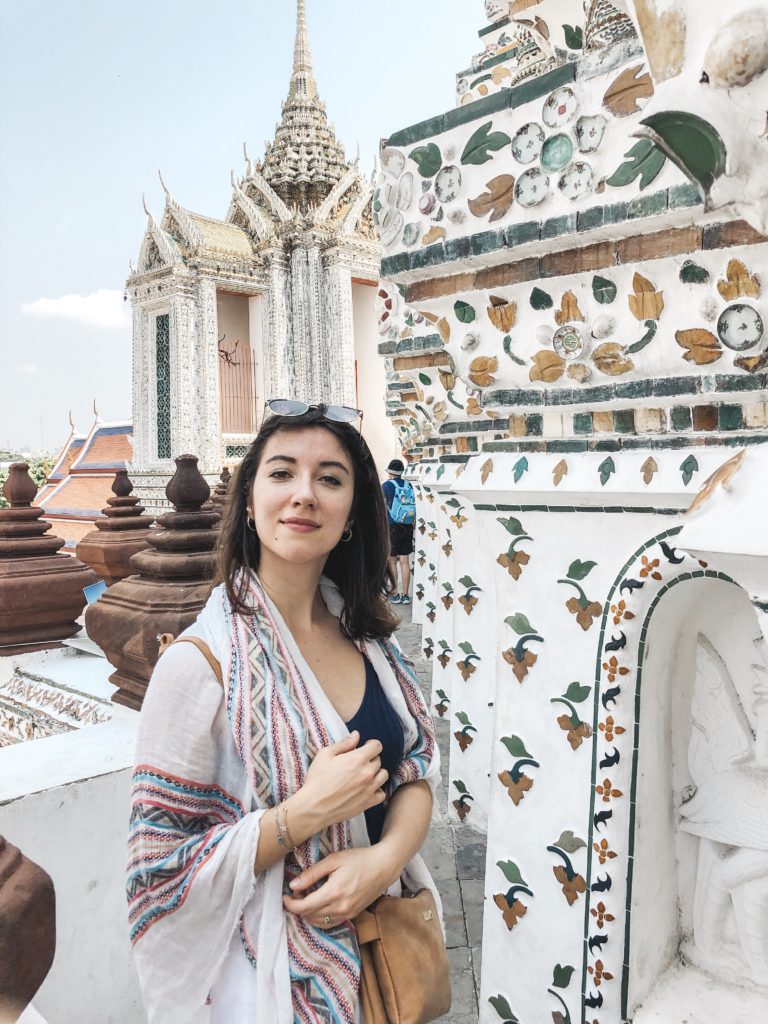 Entrance fees: 50 baht (1,40€)
Wat Pho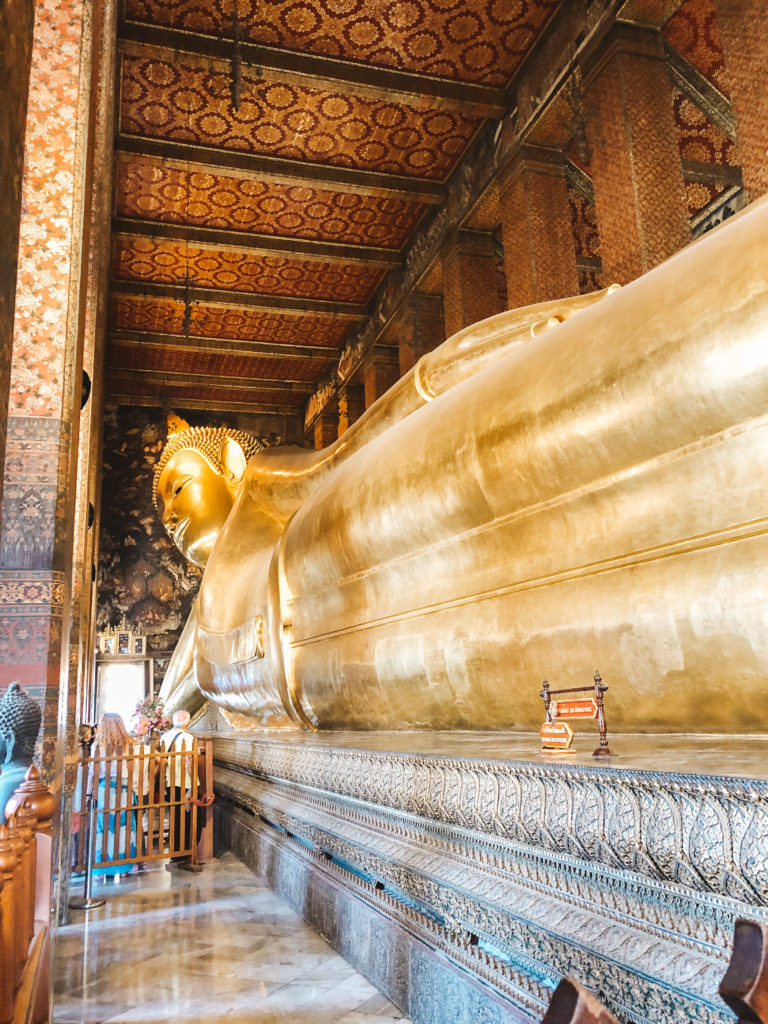 Wat Pho is known as the Golden Lying Buddha Temple. It is one of the biggest and most ancient buddhist temple of Bangkok. Facing Wat Arun on the other side of the river, it hosts a Golden Buddha laid on his side of 43m long and 15m tall, meant to represent Buddha on his death bed.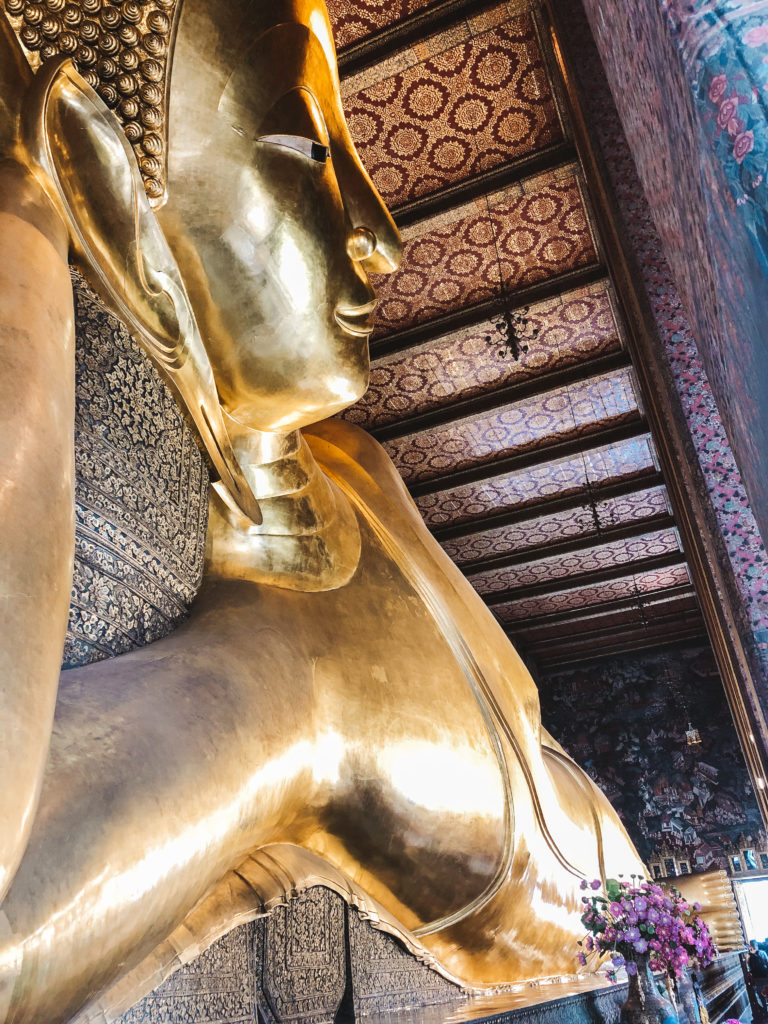 Entrance fees: 200 baht (5,60€)
NB: for the girls who are reading me, don't forget to cover your shoulders and legs when visiting temples in Thailand. Temples being sacred places, shorts, mini skirts and dresses and tank tops are forbidden. But this is very simple: you can just take with you a scarf that you put over your shoulders or tie as a pareo, and you can enter!
Do a boat tour on Chao Phraya River and its canals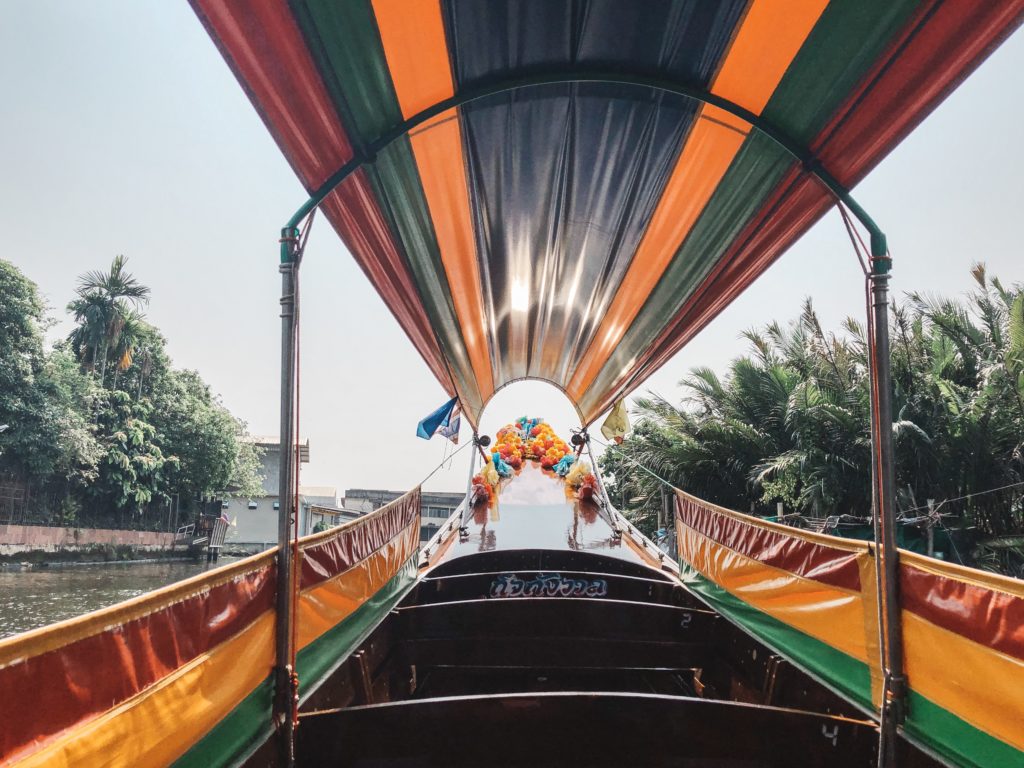 Many boats  "Hop on / Hop off" allow you to cross the river to go from a point A to B. As we were about to book one of those boats with my boyfriend, a guide talked to us to book a private tour on the river and its canals. We would visit a floating market, small districts of Bangkok, and finish the tour near Wat Pho. As we had nothing else planned, we said yes and booked it! This tour was completely unofficial, so I wouldn't know if it's part of some organism, but I can tell you we found it behind the Mandarin Oriental Hotel, near Wat Muang Kae. We paid 1600 baht for two for this tour (44€) and had a private tour of 1h30-2h in places of Bangkok we wouldn't have seen otherwise!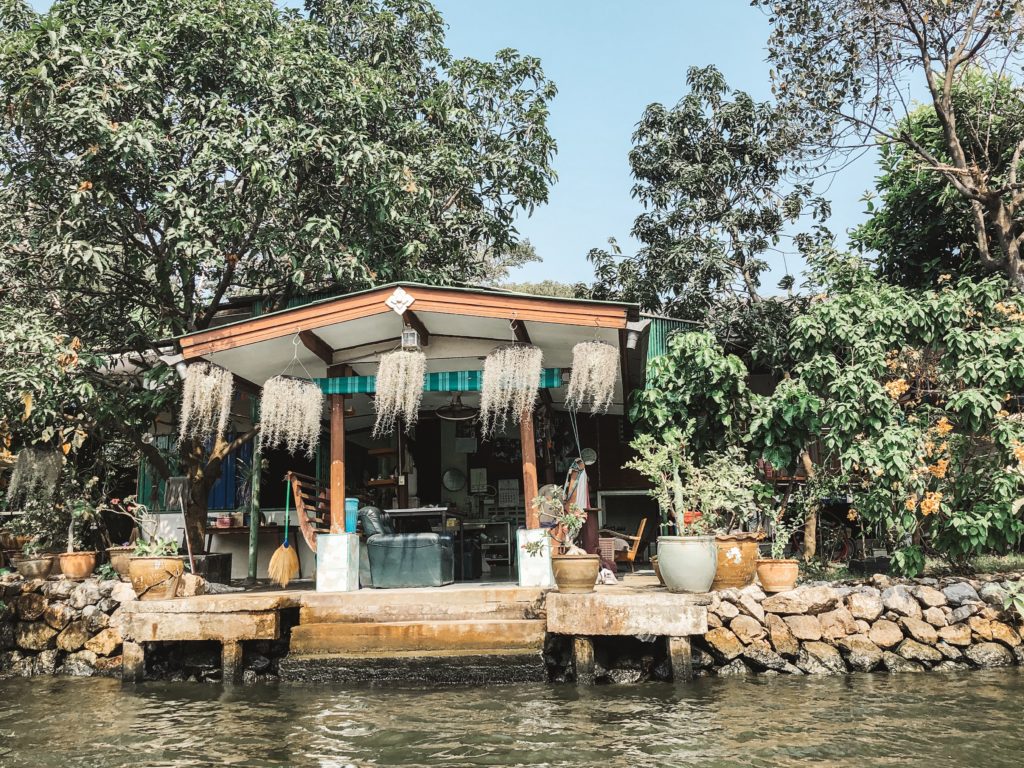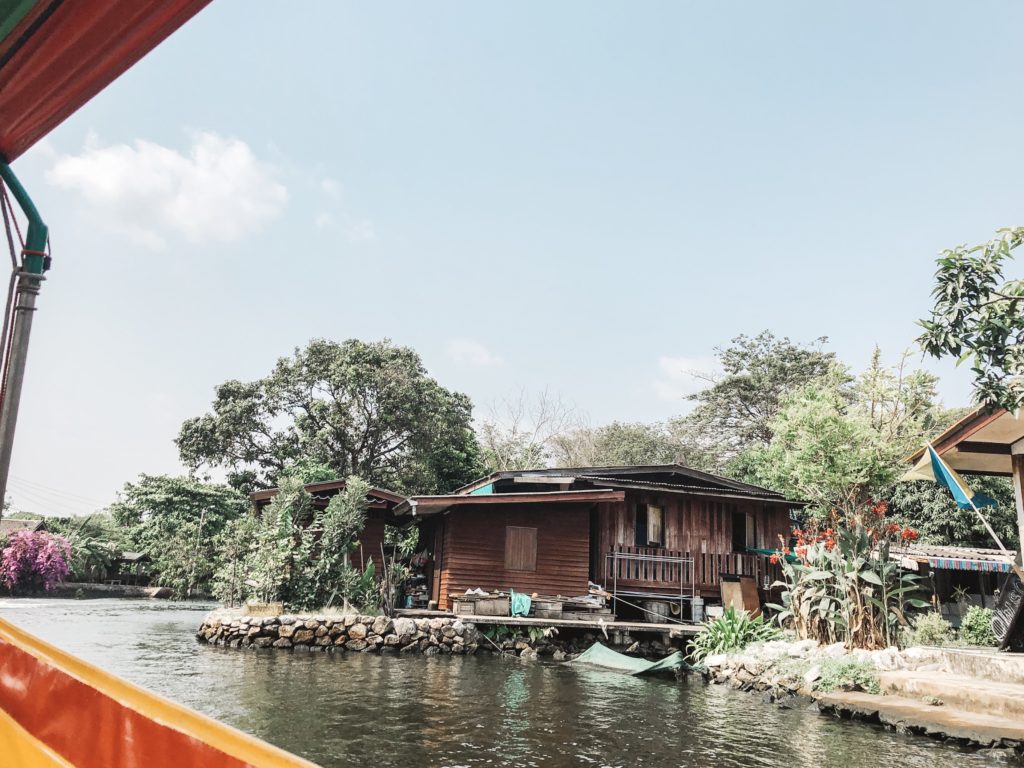 During this boat tour, we went down the Chao Phraya river until Wang Kaeo Village, where we entered the canal to sail up the Bang Khun Thian until Bangkok Yai and finish on Chao Phraya. During those 1h30, we were able to admire and meet small typical houses on stilts surrounded by tropical plants, poor districts of Bangkok, a (very) small floating market (i.e one woman on a boat selling fruits and souvenirs haha!), temples (and a Buddha being constructed!) but mostly parts of Bangkok we wouldn't have been able to visit otherwise!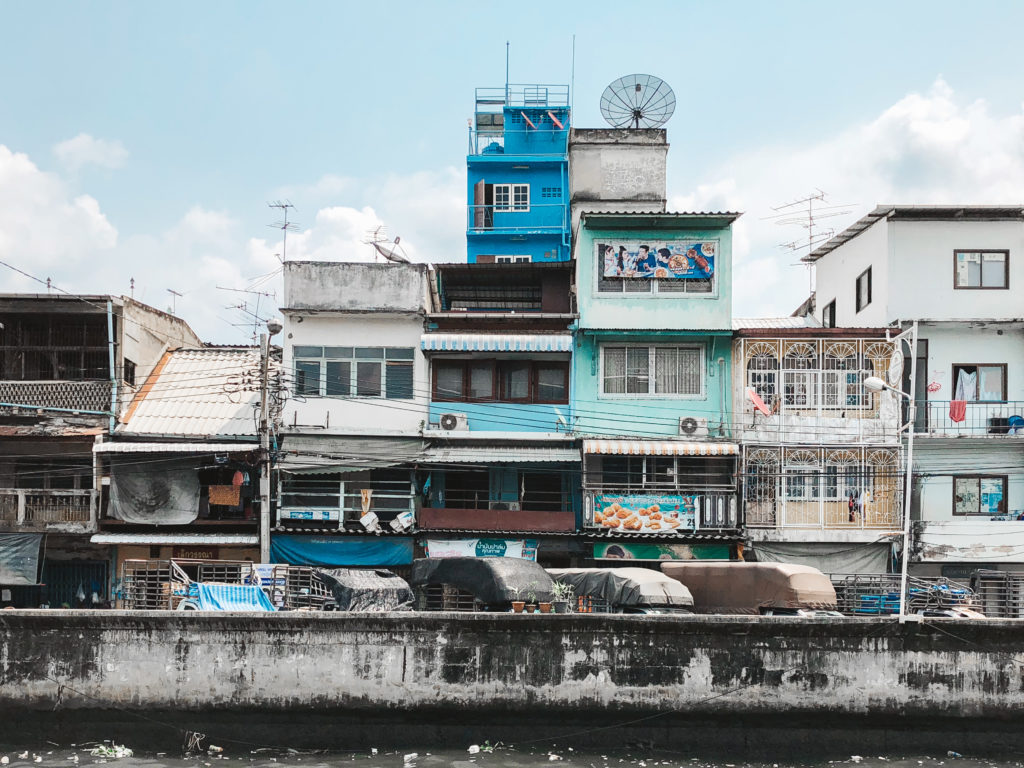 Climb up the King Power MahaNakhon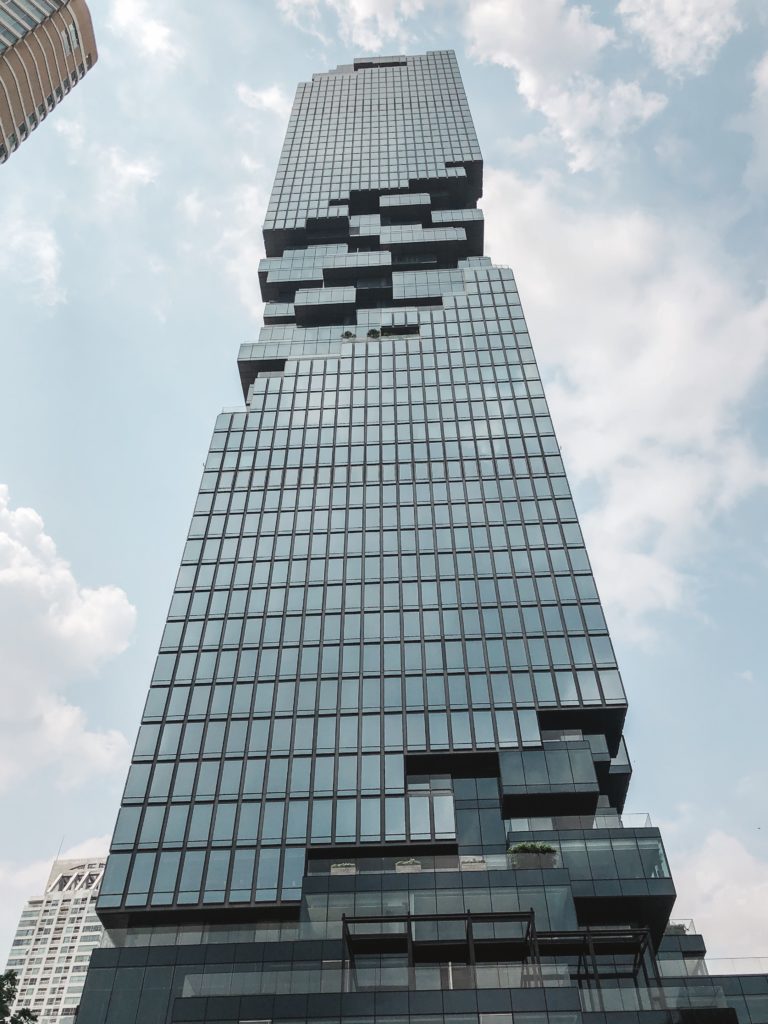 I had seen this skyscraper that looked like falling into pieces on the river. My boyfriend being a huge fan of architecture, we investigated on it and realised it was a new tower (2016) built by one of the architecture studio of the world (OMA, Office for Metropolitan Architecture).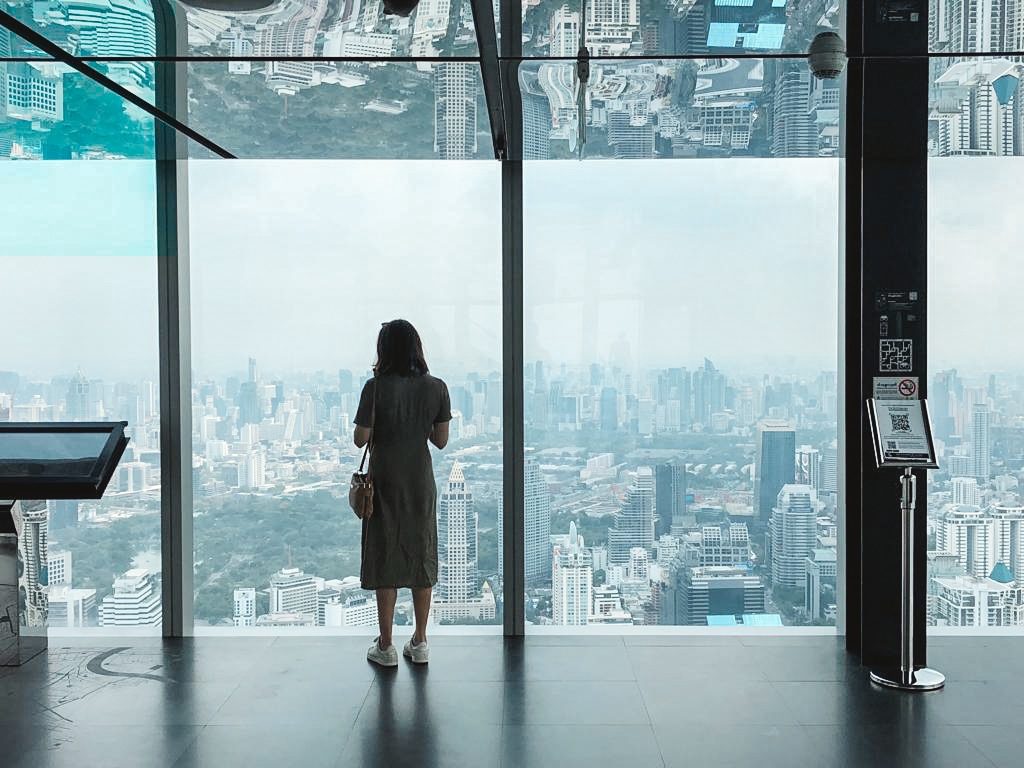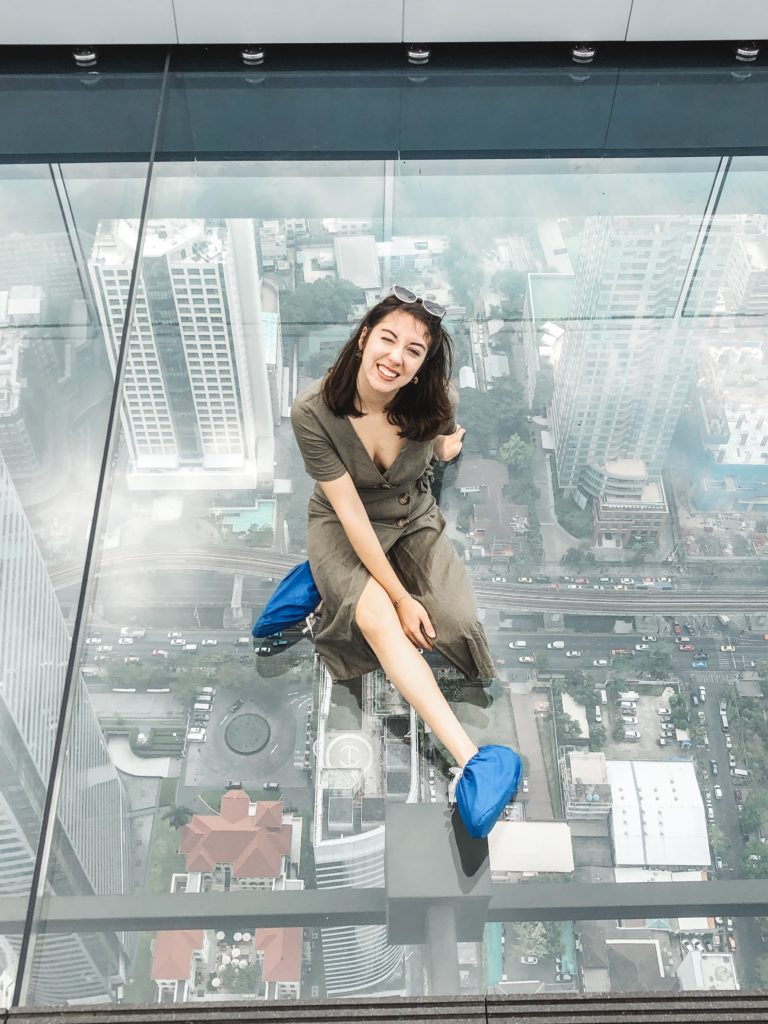 The King Power MahaNakhon, that is a shopping center and a residence, has an outdoor panoramic view with a Glass Tray at 310m giving you the feeling to walk in the air…we didn't need more to be convinced! If the climb is a bit expensive (965 Baht soir 27€ per pax), it is largely worth it. The 360 degrees view on the city is impressive, and walking on this glass suspended floor is scary, but clearly an experience to do! Moreover, there is a bar up there that offers you fresh drinks and cocktails: perfect to enjoy the view!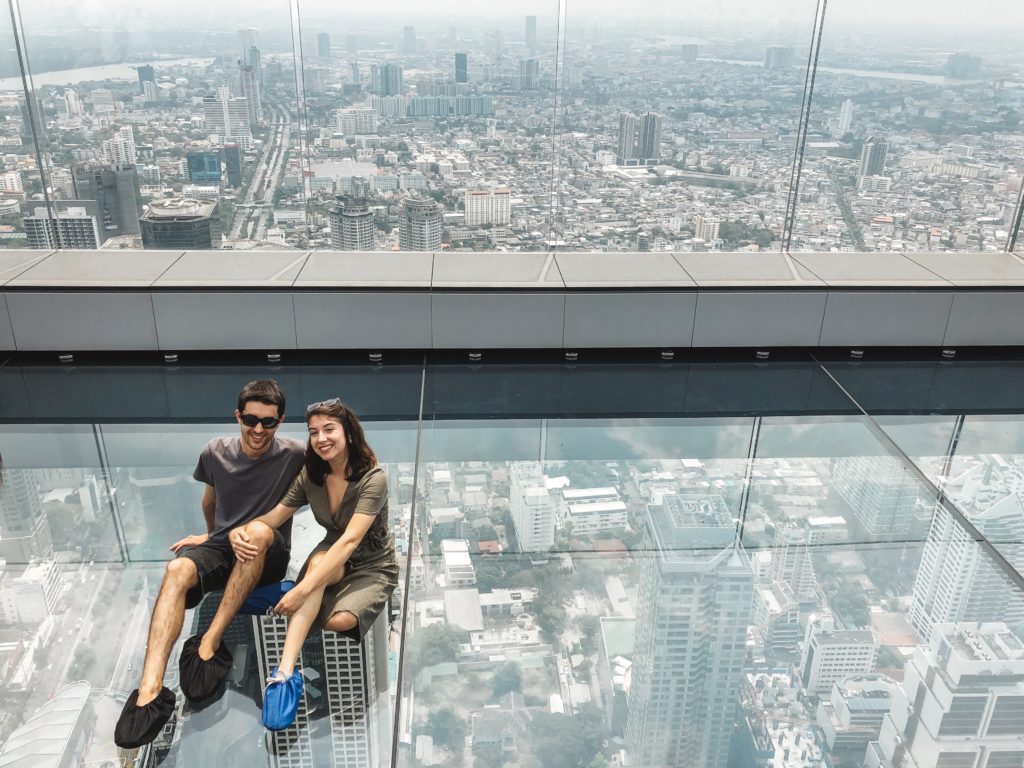 Strolling along Khao San Road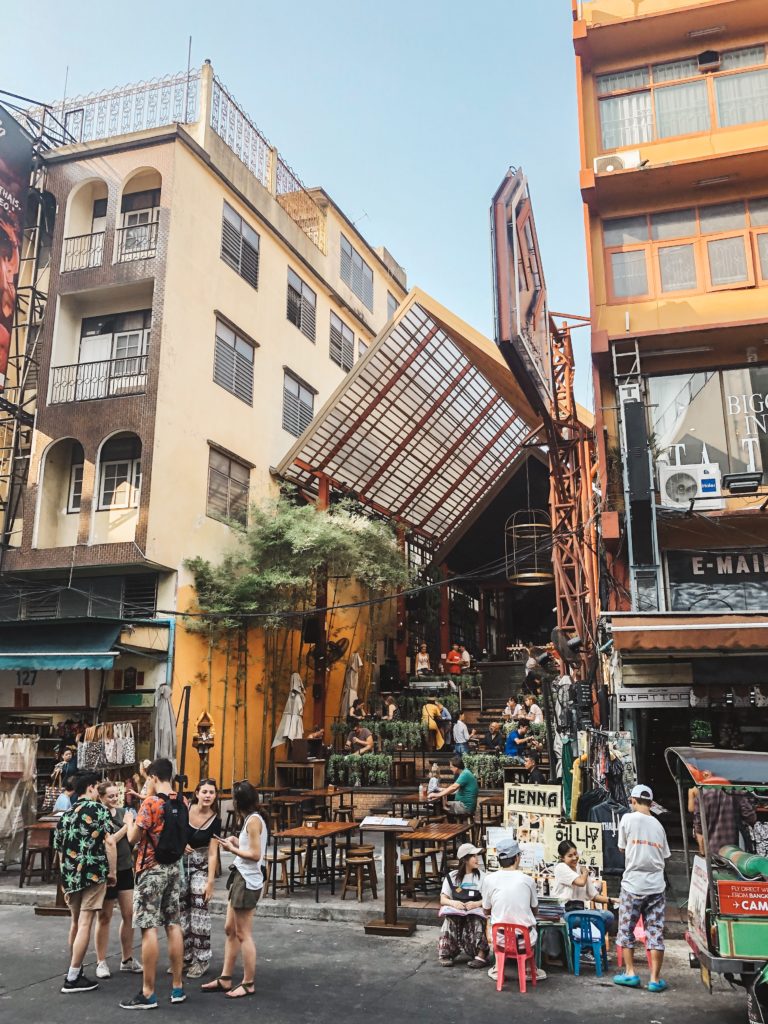 Khao San Road is a long touristic road at the North of the hyper center of Bangkok. Full of little shops, restaurants, massage and tattoo salons, it is a must-do activity center of the city. If I visited it during the day, it is apparently even nicer at night as it is filled with local stands and transforms into a night market. My advice? Don't mind strolling around this street because the streets around are as nice!
Grab a drink at the top of Baiyoke Tower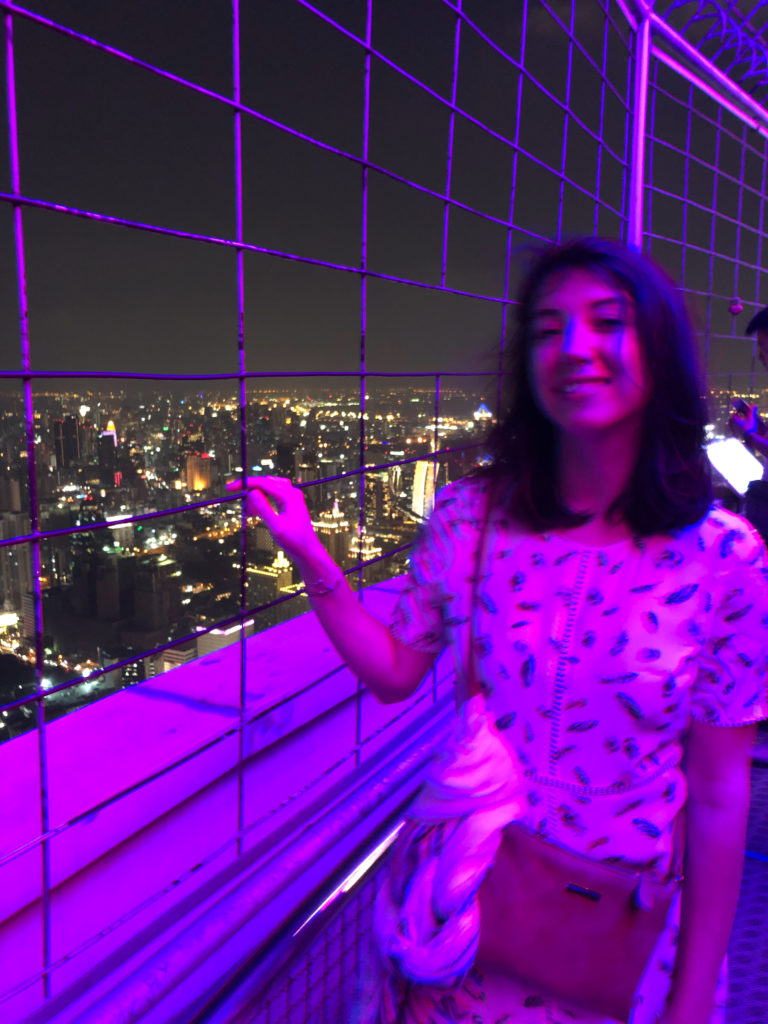 Baioyke Tower II, with its 324m, is the highest skyscraper of Bangkok after King Power MahaNakhon. Besides of being a hotel and a shopping center, it is also a rooftop and has many restaurants. When you buy the ticket for the panoramic rooftop (that moves!) you have a free drink, so enjoy!