Where to eat in Barcelona #5
Hello food lovers ! Here I am again for a "Where to eat in Barcelona" post… Or should I say, the first one, as I used to call the theme "A comer en Barcelona" but I think not everyone understood 😉 This time, I make you discover the perfect work cantine, the heaven on earth for cookie lovers, a great brunch, and brand new and cool other places to eat in Barcelona. Let's go !
1-

Mediterràneo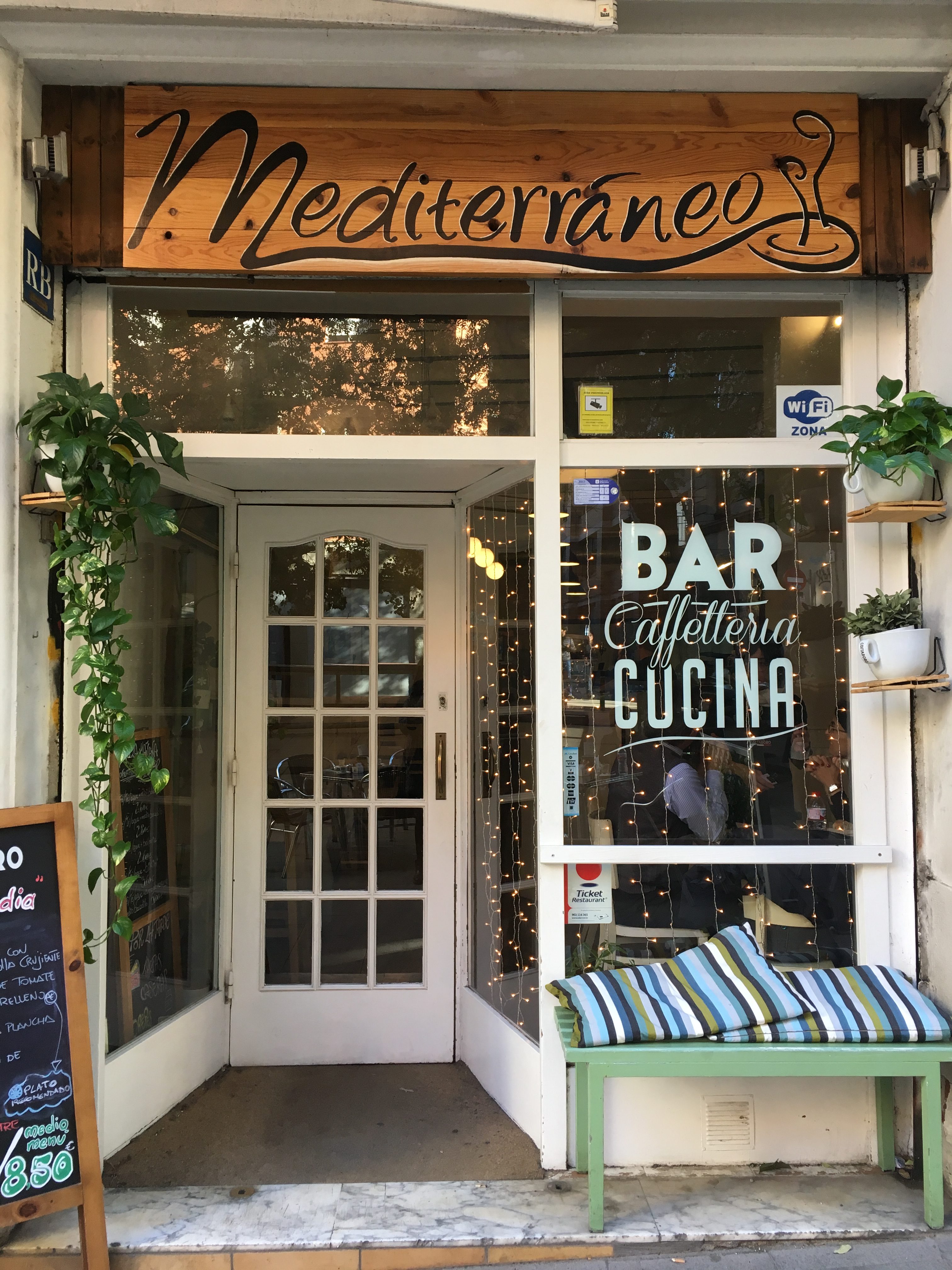 The Mediterràneo is a bar-restaurant-cafeteria perfect to have lunch during a work day. Menu of the day is made with fresh products that come from Spain or Mediterranian countries as Italy, and it changes everyday. The day I went there, I could eat fresh burrata with tomato sauce and veggies, a veal bread with boiled egg, (or I could have also chosen the black rice with squid ink), and a panna cotta. For 11,25€, you have the starter, the main meal, a dessert or a coffee, and a drink… which is great to eat outside of work for cheap and moreover eat good !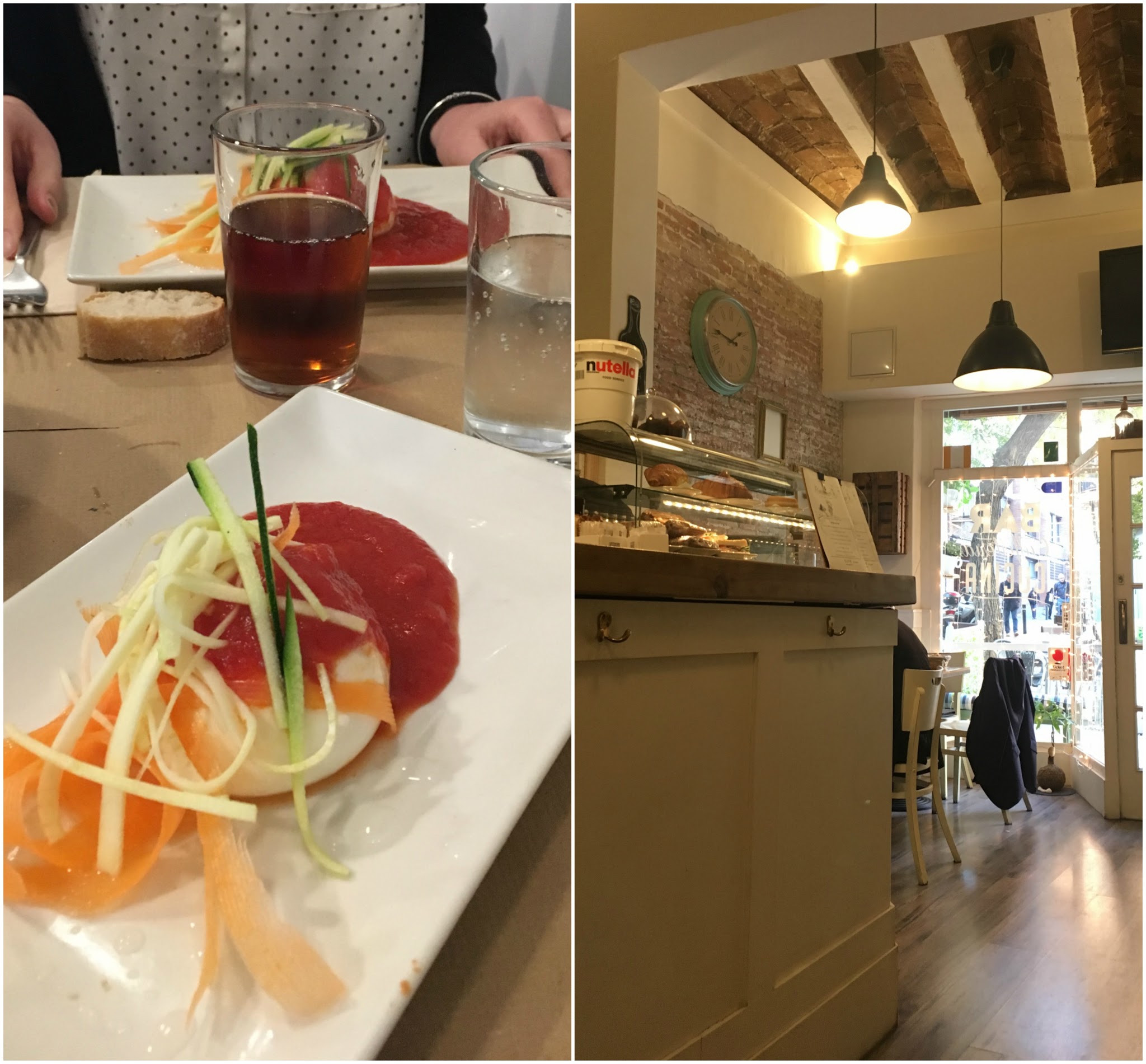 The address, por favor ? Plaça de Narcís Oller, 8, 08006 Barcelona
2- Cookona
You may not know it yet, but COOKIES ARE ALL MY LIFE ! I could eat one each day of my life, and of each flavor (and I actually cooked them in so many flavors already) : traditional chocolat chip, chocolate chip and bretzel, matcha tea and white chocolate… So when I found out on Instagram a place that did COOKIE DOUGH (eatable cookie dough, because the one you do at home before baking isn't eatable because of the flour), Cookona Barcelona, I thought it was the best day of my life. I ran there after a long day at work and wasn't disappointed. I took the smallest bowl of cookie dough for 3€ (and it's great cause you can choose two flavors) of Twix and dulce de leech cookie dough and oreo cookie dough, and a matcha tea cookie for 1,90€. I ate the pastries on several days to make the pleasure last most, but OMG, it was good. Cookona also have tables for you to sit at to enjoy your cookies, and does of cookie pizzas for parties or birthdays. Awesome, no ?
Voir cette publication sur Instagram
The address, por favor ? Carrer Rosselló 160 (with Carrer Aribau), 08036 Barcelona, Spain
3- Flax & Kale Passage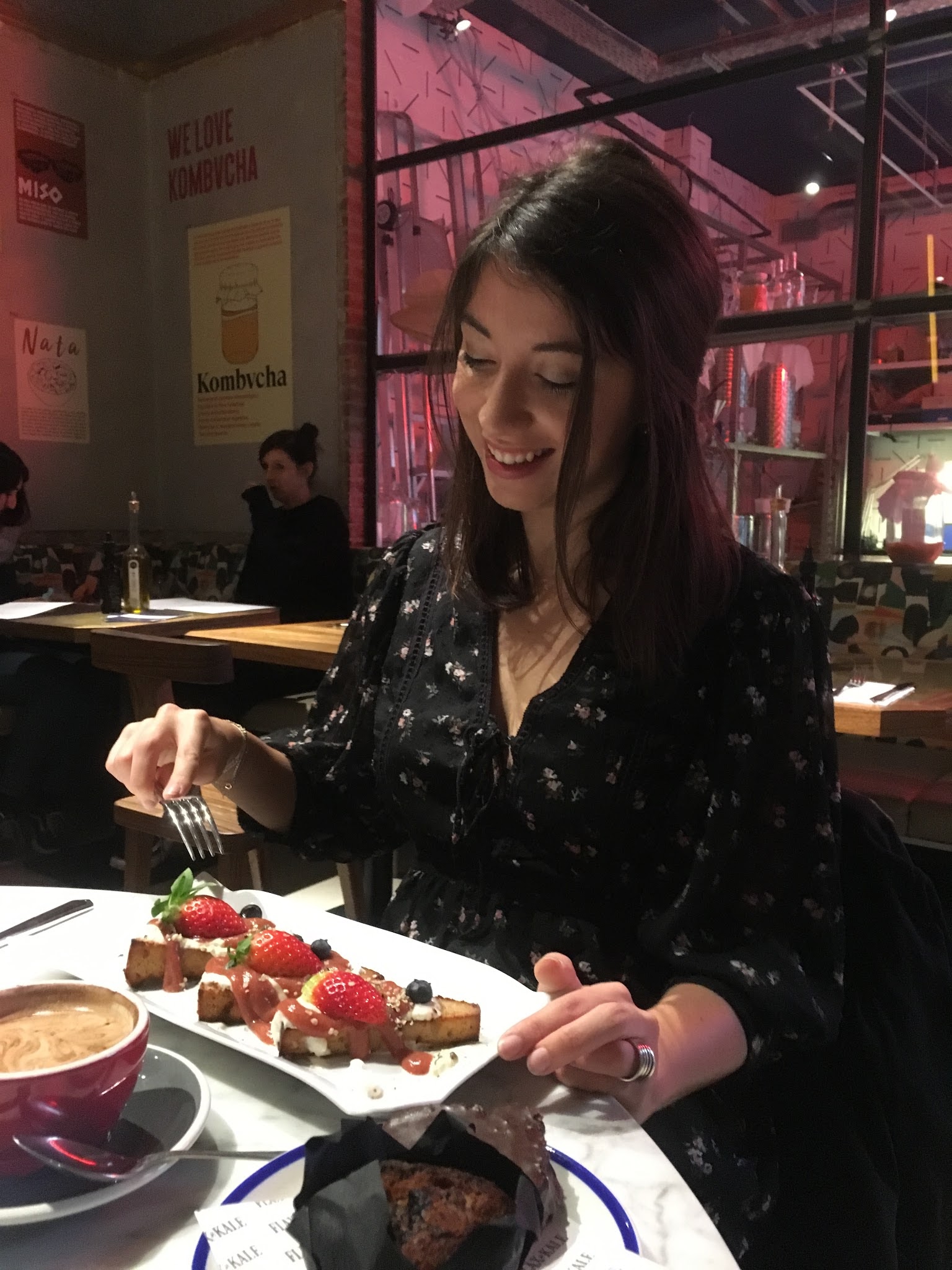 Flax&Kale is a well-known and fancy place to have a brunch in Barcelona. It has recently opened a new restaurant in the North of the Born near Palau de la Music : Flax&Kale Passage. The restaurant is literally giant, super modern and industrial, in a loft mood, and located to a gorgeous gallery. The restaurant is flexitarian : it offers vegan and vegetarian meals, as well as no gluten dishes. For less than 15 euros, I enjoyed a great and healthy brunch. This day, I took a no gluten brioche with yogurt, homemade fruit coulis, and strawberries; a chocolate pastry with chocolate sponge cake and cashew cream; and a latte with soy milk. It was de-li-cious and perfect to start the weekend between friends !
The address, por favor ? 33, Carrer de Sant Pere Més Alt, 31, 08003 Barcelona
4- L'Antica Pizzeria Da Michele
Talking about a pizza place isn't very original. But talking about THE traditional pizzeria of Naples, and about the restaurant where Julia Roberts ate her delicious and mouth-watering pizza in "Eat, Pray, Love", that's another story ! L'Antica Pizzeria Da Michele, originally located in Naples, Italy, opened a franchise in Barcelona last year and since then it is buzzing ! The place is often crowded, and it is almost impossible to avoid the waiting list. On the menu, you will find a very limited choice of pizza : the napolitana, the Margherita, the calzone and the mushroom pizza. But pizzas are at 9€ and they are the size of an OVNI, so clearly a good deal ! Even if the choice is limited, the pizzas are VERY good, flavors are there, the crust is crusty and the middle melting… The only drawbacks ? Waiters are not very friendly if you don't speak a small word of Italian…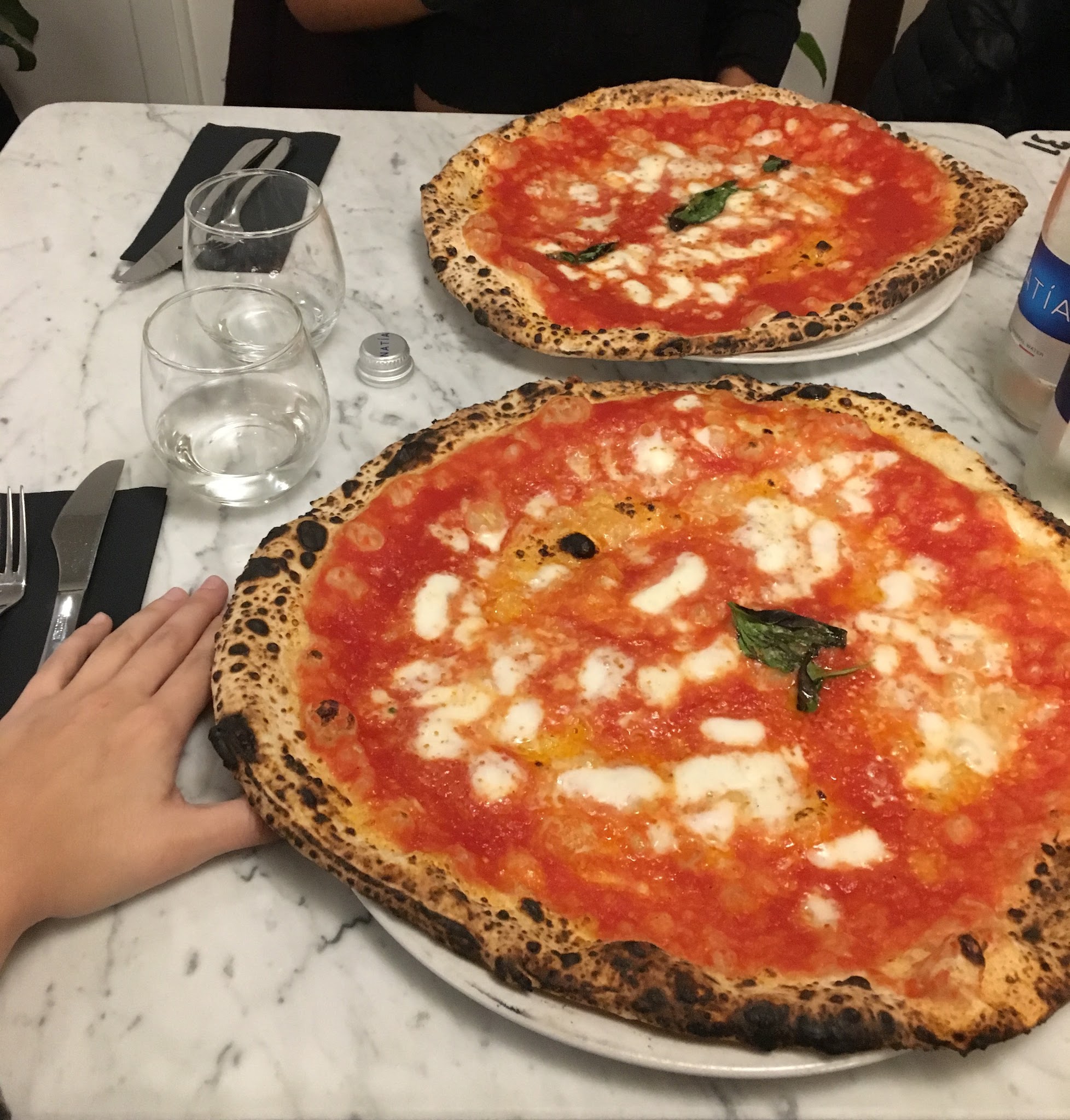 The address, por favor ?
Carrer del Consell de Cent, 336, 08009 Barcelona
5- Escobar
Well, as long as I talk about pizzas, why not going on in the junk food and mentioning a burger place ? For this last good place to eat in Barcelona, I recommend you the Escobar, a small burger place in Example that opened very recently. The mood is definitively unique, with colored walls, modern furnitures, and a Kalachnikov on the wall (ok, that's a bit too much). Burgers are of diverse flavors, around 10€ each, and with a very good bread and steak (which is kind of rare here in Spain !). It is a great spot to have a good and large meal !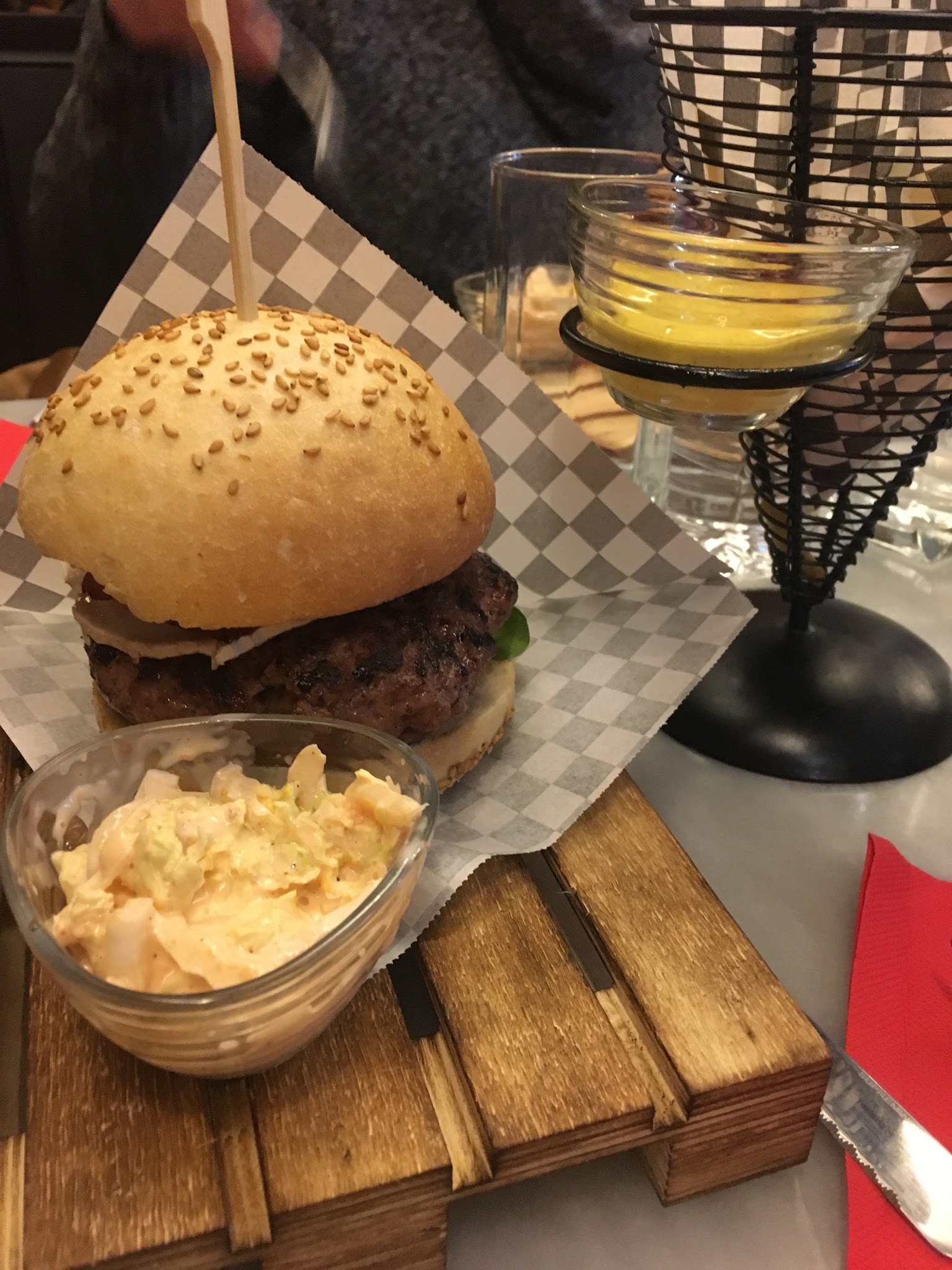 The address, por favor ?
Carrer d'Enric Granados, 58, 08008 Barcelona