Purple is the new Bordeaux.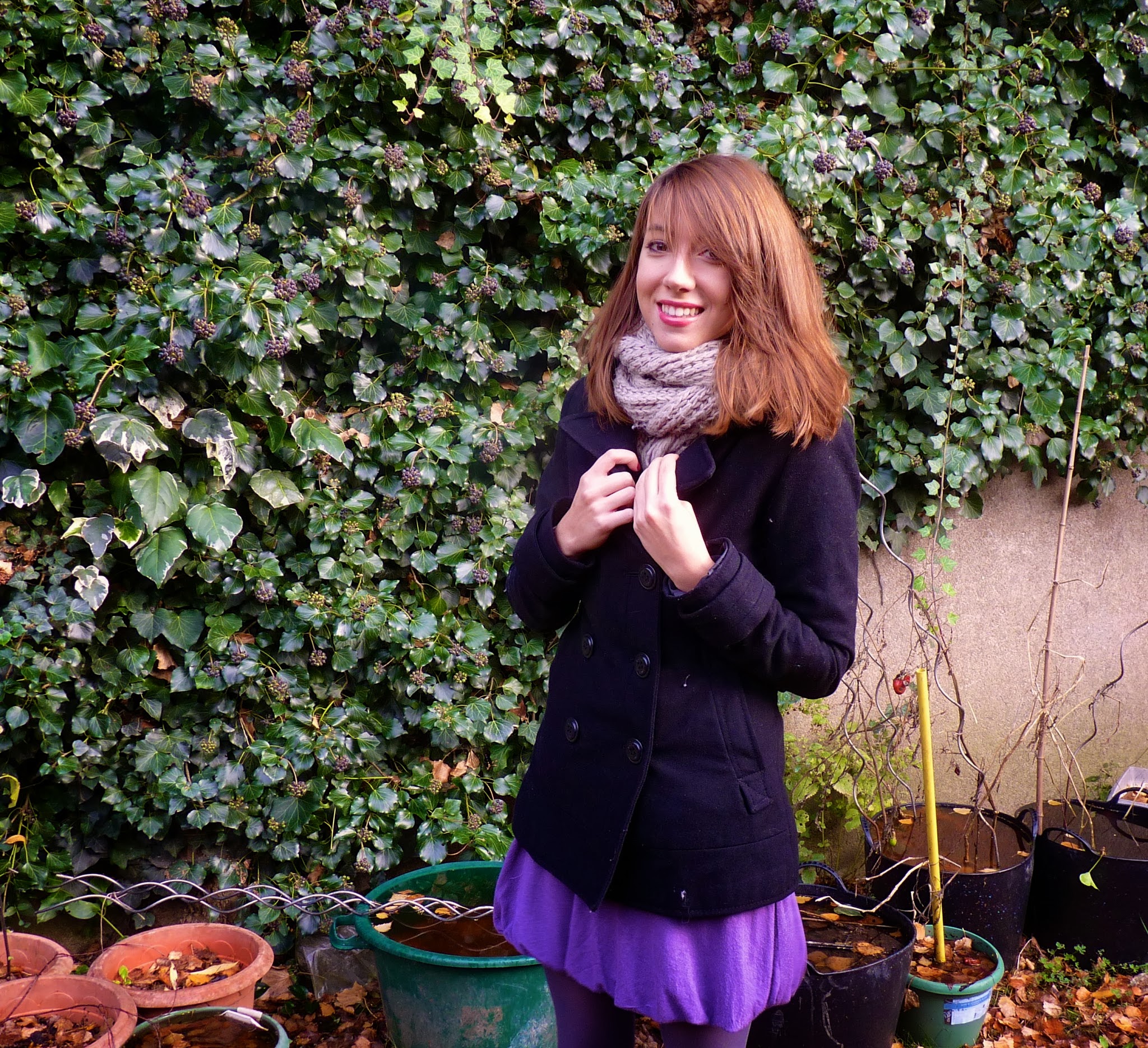 On dit souvent que la couleur automnale par excellence est le bordeaux. En tant que grande fan de cette couleur – qui se retrouve d'ailleurs beaucoup dans ma garde robe- j'adhère à cette idée avec enthousiasme.
Cependant, je trouve que l'automne est également le temps des couleurs froides autres, comme le violet ou le gris par exemple. Le look que j'ai composé aujourd'hui pour vous se compose donc de ces deux couleurs.

One often says burgundy is the perfect color to represent Autumn. As a big fan of this color -which can be found many times in my wardrobe- I agree with this idea enthusiastically. 
Nevertheless, I think Autumn is also the season for other cold colors, as for instance purple or grey. The look I've made today for you is then composed of these two colors.
Pris entre deux cours –et deux averses– ce photoshoot n'est pas aussi parfait que peuvent l'être les shoots des véritables fashionistas du net. Mais j'avoue que je n'avais pas une multitude de lieux s'offrant à moi (le jardin de mon studio étudiant a donc fait l'affaire). Encore heureux qu'un rayon de soleil s'est pointé pile quand j'ai pris la pose !


Taken between two classes – and rain showers- this photoshoot might not be as perfect as those made made by real fashionistas of the internet. But I admit that I hadn't a huge choice of places offering to me (the little garden of my student studio then made the case). Lucky me, the sun shone just when I took the pose !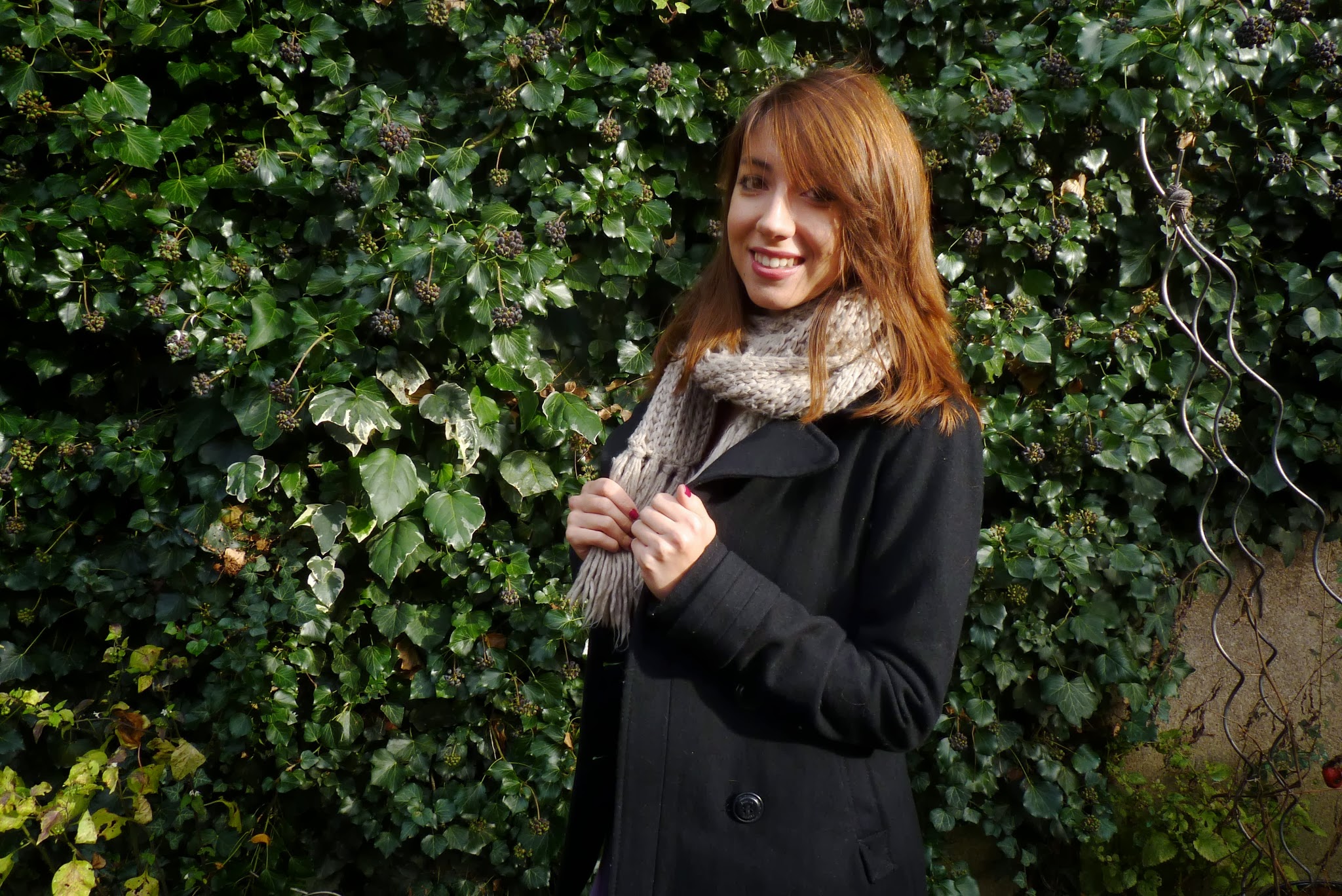 Mon manteau, noir, rien de spécial, vient d'une ancienne collection de Bershka. Ma grosse écharpe en laine, grise, toute chaude et toute douce provient de H&M. Je l'ai achetée l'an dernier pour une vingtaine d'euros.
My coat, black, nothing special, comes from an old Bershka collection. My fluffy scarf, in wool, all warm and sweet, comes from H&M. I bought it last year for about 20 euros.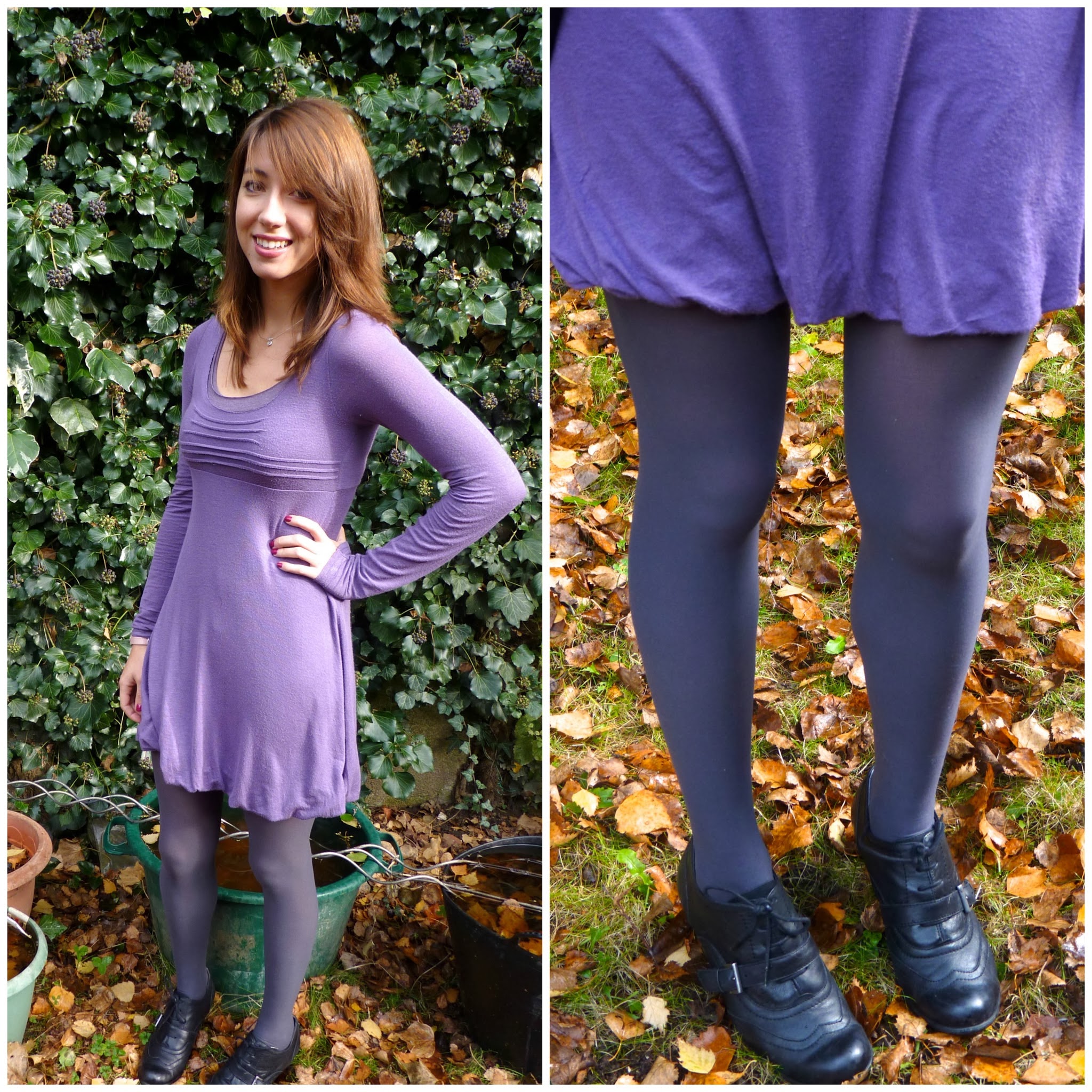 Ma robe violette vient de chez Stradivarius. Elle m'a été offerte par ma soeur il y a bien longtemps, mais je vous avoue l'avoir longtemps gardée dans mon armoire par manque d'idées. Et oui ! Le violet, pour moi, ne passait pas avec tout. Mais ça, c'était avant ! Avant la trouvaille de ces collants gris à H&M. Et avant ce post de Margaux Motin (une illustratrice gé-nia-le !) qui m'a totalement inspirée pour ce look d'aujourd'hui.
Enfin, mes petites richelieu noires en cuir proviennent d'une super affaire sur Zalando !
My purple dress comes from Stradivarius. It was offered to me by my sister a long time ago, but I admit I kept it a long time in my wardrobe without an idea of how to wear it correctly. Because yes, before, purple wasn't a suitable color to me ! But that was before ! Before I found those grey tights in H&M. And before this post of Margaux Motin (an awesome illustrator) who totally inspired me for this look today. 
Finally, my little black Richelieu in leather are coming from a super deal on Zalando !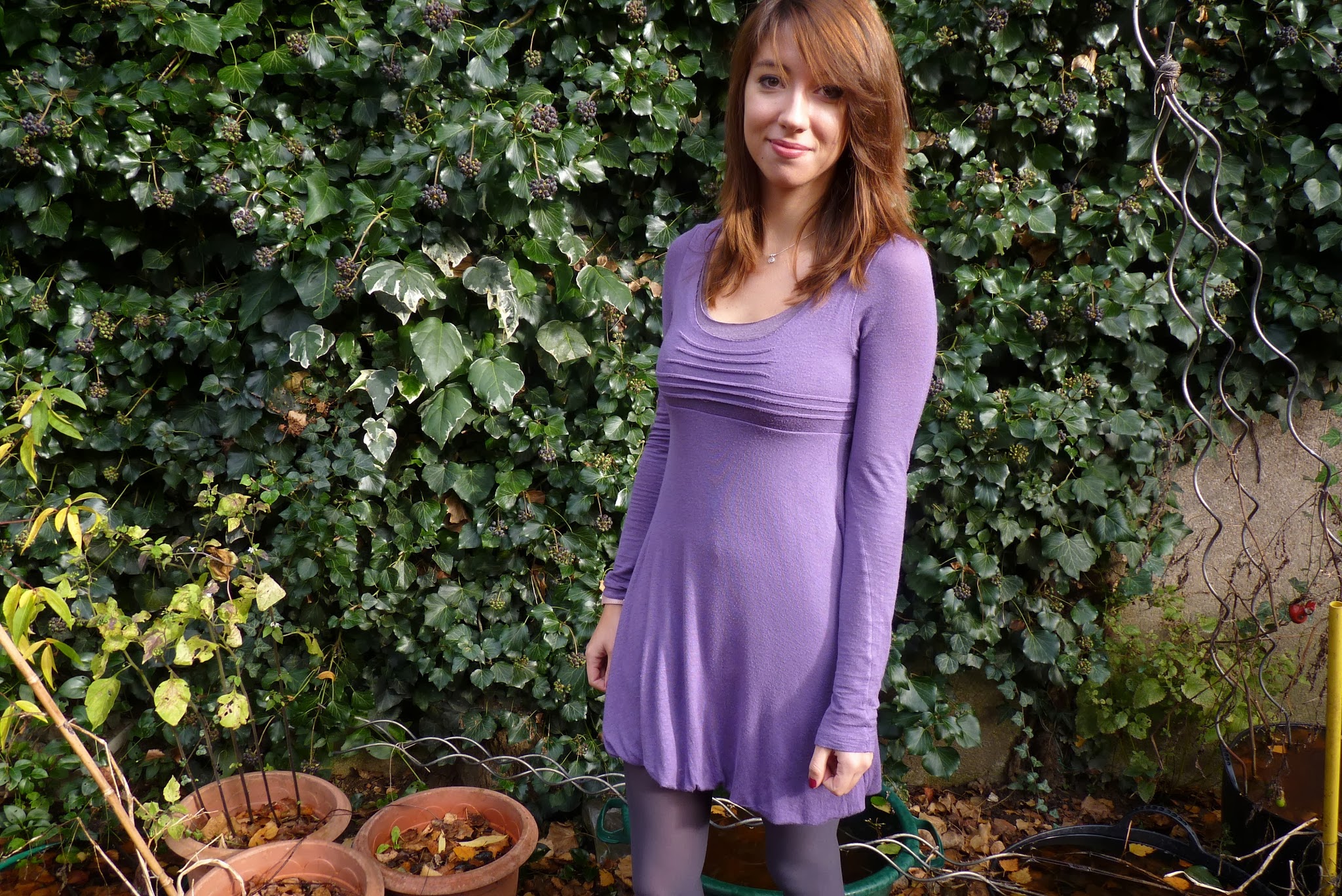 J'espère que avez aimé ce look. Je sais qu'il n'est pas parfait (manque de zoom sur les détails, décor un peu improvisé) mais laissez moi justement en commentaires ce que vous me conseillez d'améliorer, et surtout, ce que vous souhaitez voir sur ce blog ! Un nouvel article arrive bientôt 😉
E.
I hope you have enjoyed this look. I know this isn't perfection (lack of close-ups on the details, improvised scenerey) but just tell me in comments what you advise me to improve, and most of all, what do you want to see here on this blog ! A new article is coming soon 🙂
Kisses,
E.