Sneaker girl : addict aux Reeboks Classic Leather rose gold !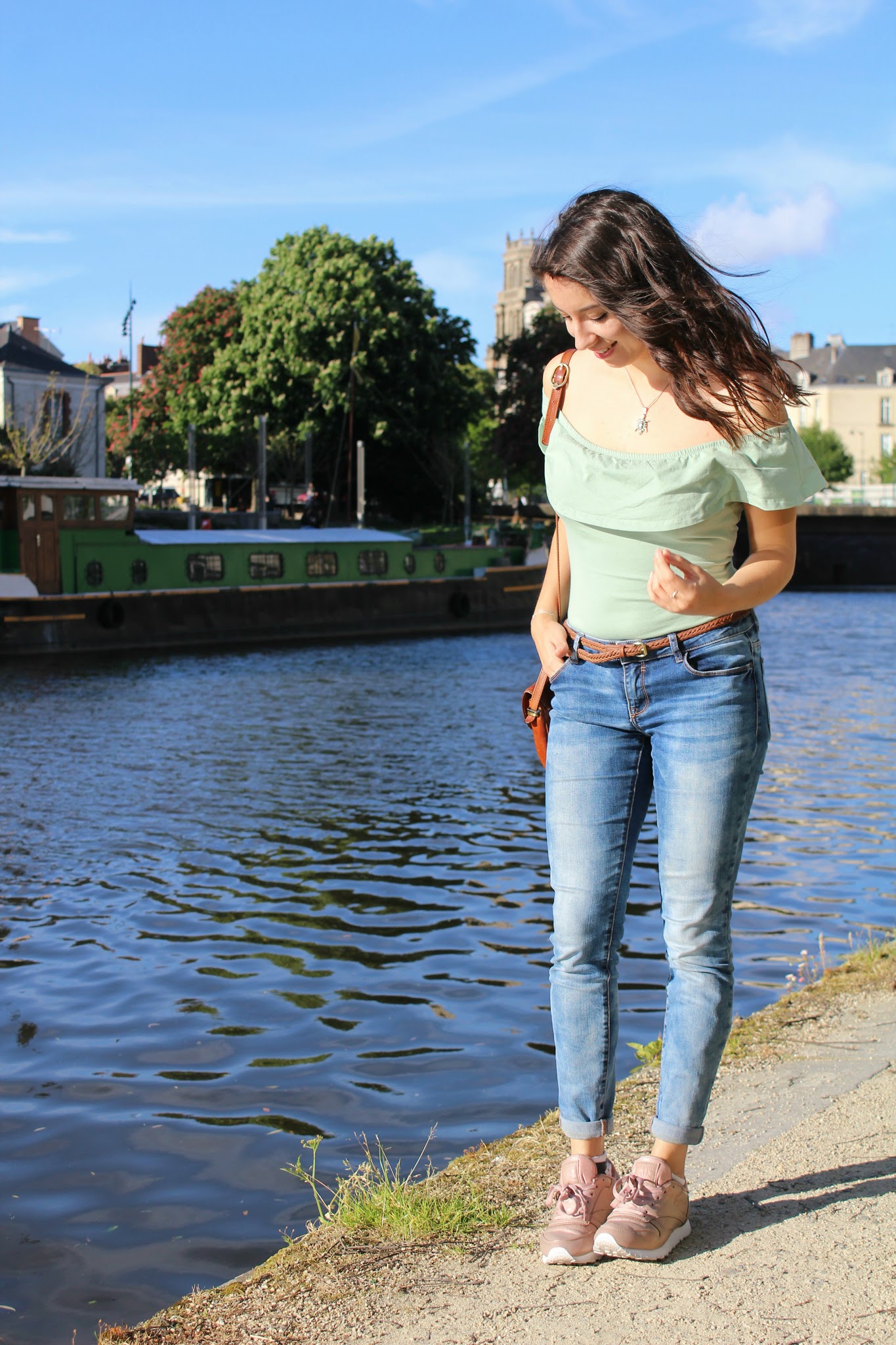 Il y a quelques années encore, je vous aurais dit : « des baskets ? Très peu pour moi ! » La moi d'aujourd'hui s'en mordrait les doigts. Les sneakers, je n'ai plus que ça aux pieds. Et après les Nike, les Adidas, me voilà qui teste
la marque Reebok grâce à JD Sports
!
Évidemment, comme je n'aime pas faire dans le banal, j'ai pris des baskets rose gold. Histoire qu'elles passent inaperçu… Le risque ? Me retrouver avec des baskets Barbie que je n'ose pas porter.
Habituée à la forme longue et plate des Adidas, j'avais un peu peur aussi de la forme de la Reebok, un peu plus sport et masculine. D'où le choix de la couleur ! L'effet irisé du modèle Pearlised m'a également convaincue.
Pourtant, quand je les ai reçues, j'ai tout de suite su qu'on allait s'entendre. Pour moi, ces baskets sont une pièce « statement » comme le disent les Américaines. Une pièce « statement » c'est une pièce maîtresse d'un look. Ces baskets Reebok Classic Leather Pearlised habillent instantanément une tenue, lui donnent du pep's et de la fraîcheur.
Je trouve qu'elles peuvent convenir pour une tenue sportswear et estivale, comme je vous le montre ici avec un jean bleu et un top Bardot amande ; ou bien avec un short taille haute et une chemise. Quel que soit votre âge, ces baskets peuvent vous aller : il suffit juste de les ajuster à votre personnalité !
—
A few years ago, I would have said : « sneakers ? Uh, not for me ! » The new me would just bit her fingers. Sneakers, that's all I have left on my feet. After Nike, Adidas, here am I, testing Reebok thanks to JD Sports !
Of course, as I don't like doing in basics, I ordered gold rose sneakers. So that everyone can see them. The risk ? Finding myself with the shoes of Barbie that I don't dare to wear.
Used to the long and flat shape of Stan Smith, I was also a bit afraid of the Reebok shape, a little bit sportier and masculine. Hence the choice of color ! The iridescent effect of the model Pearlised also convinced me.
As soon as I received them, I knew we would get along. To me, these sneakers are a « statement » piece, something that instantly give peps and style to an outfit.
I think they are convenient for a sportswear summer outfit, as I show you here with a blue jean and almond green body ; or even with a high waisted shorts and a shirt. No matter what, you can wear those sneakers, you just have to adjust them to your personality !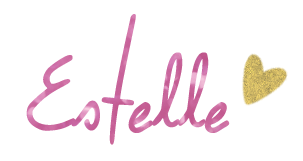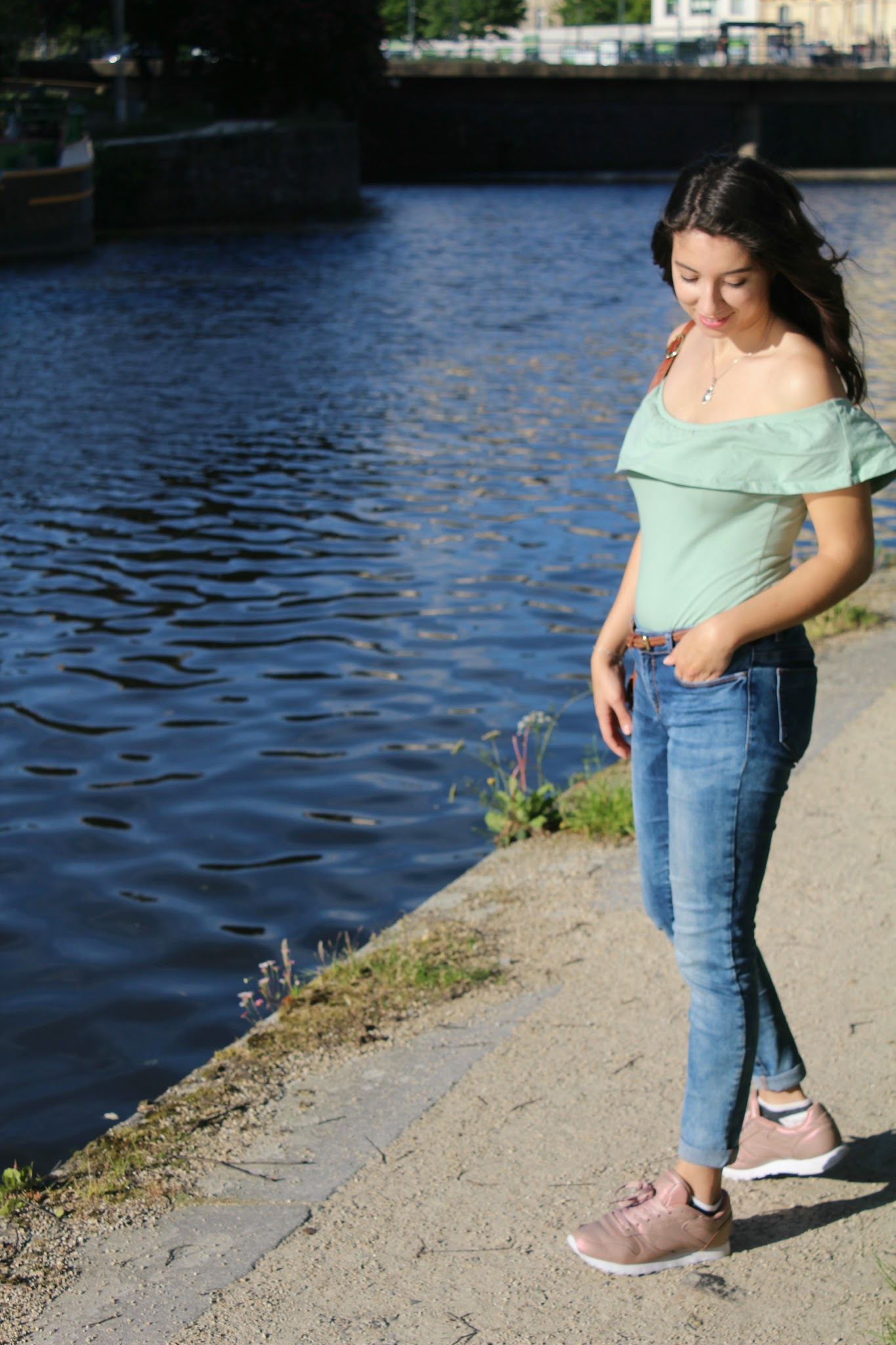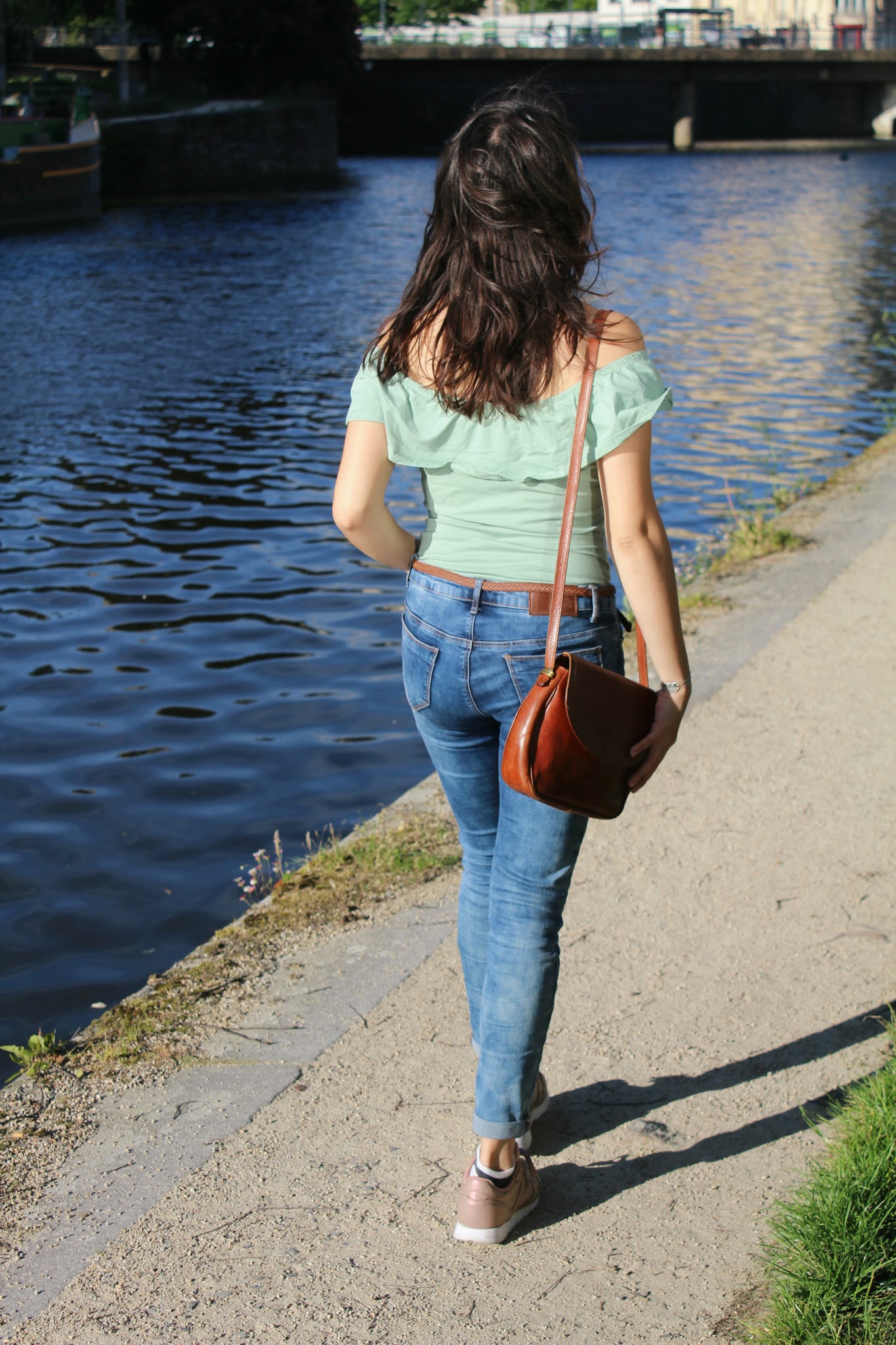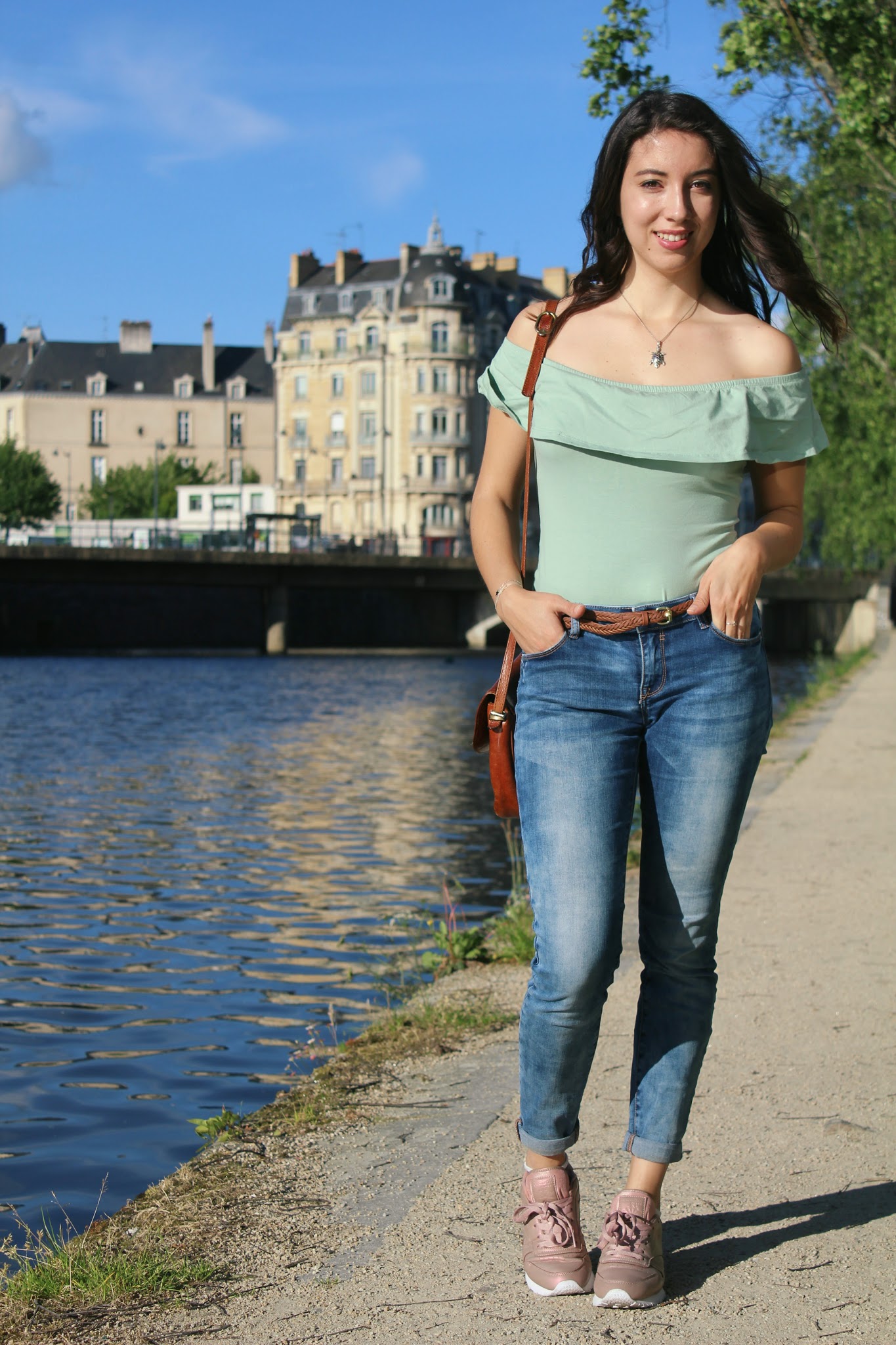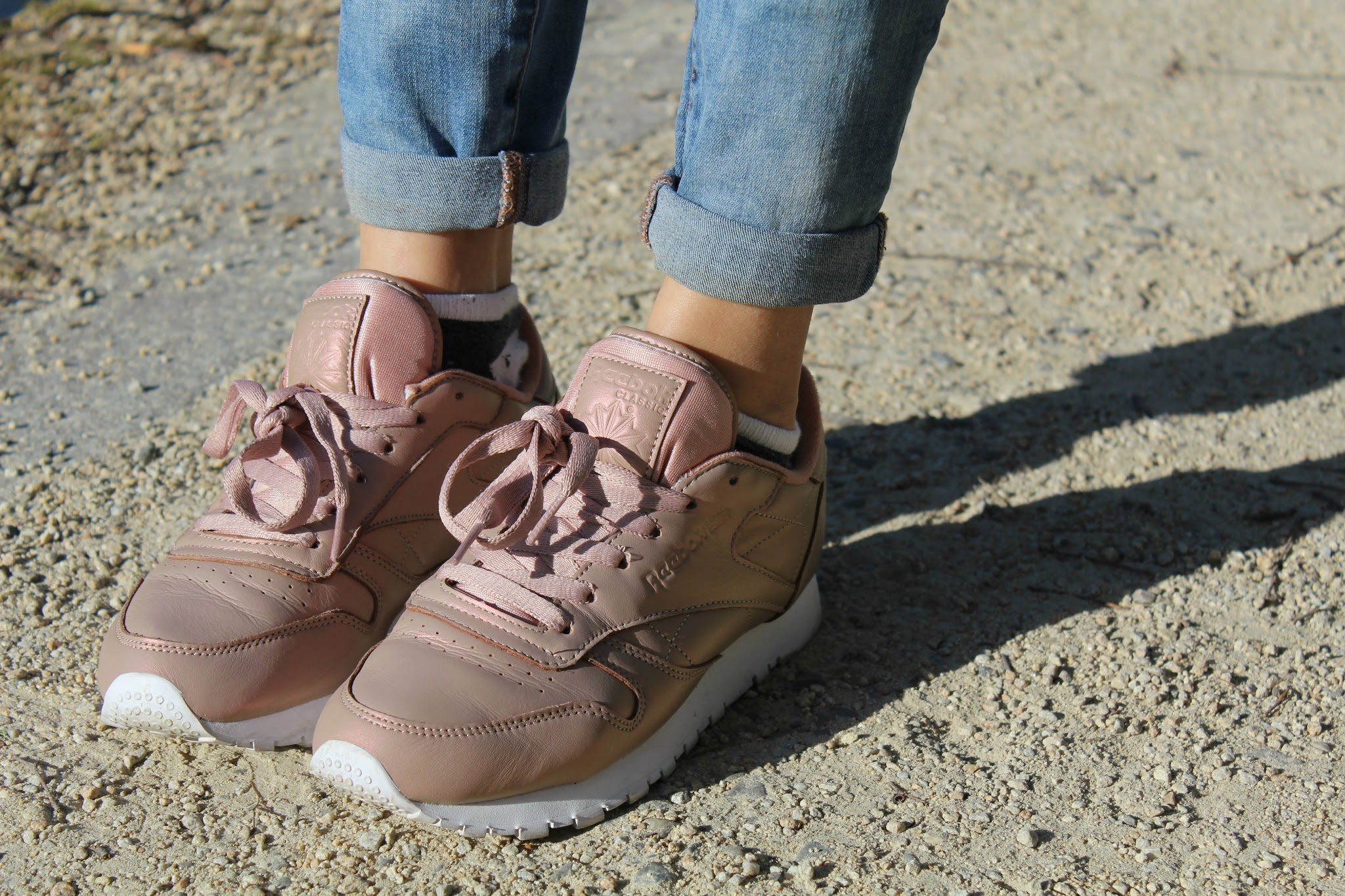 Reebok Classic Leather Pearlised Rose Gold : JD Sports // Body : Primark // Jean : Pimkie // Sac : Friperie