5 things to do in Chiang Mai
We spent the second step of our trip in Thailand in Chiang Mai. Its specialty? Elephants! Besides being a true sanctuary for those animals, Chiang Mai is a small city with a rich culture and close to nature. To me, it truly is a city you must visit, and I'll tell you why with those 5 activities to do in Chiang Mai!
Taking care of elephants in a sanctuary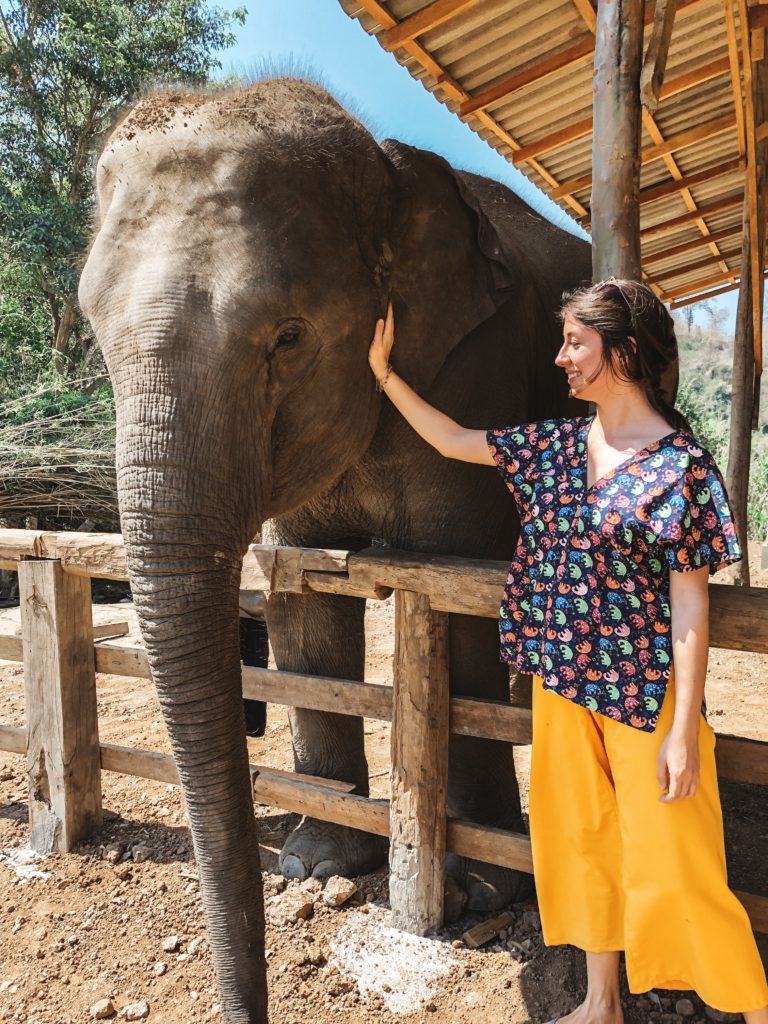 It is the main activity to do! Elephants have been the symbolic animals of the city since its foundation, and are very present around it. Now, many refugees and sanctuaries take care of those animals and of ex-elephants involved in touristic activities like circus or riding, to give them a better second life. It is possible to visit them for half a day or an entire day, to feed them, bathe them and understand better their way of life.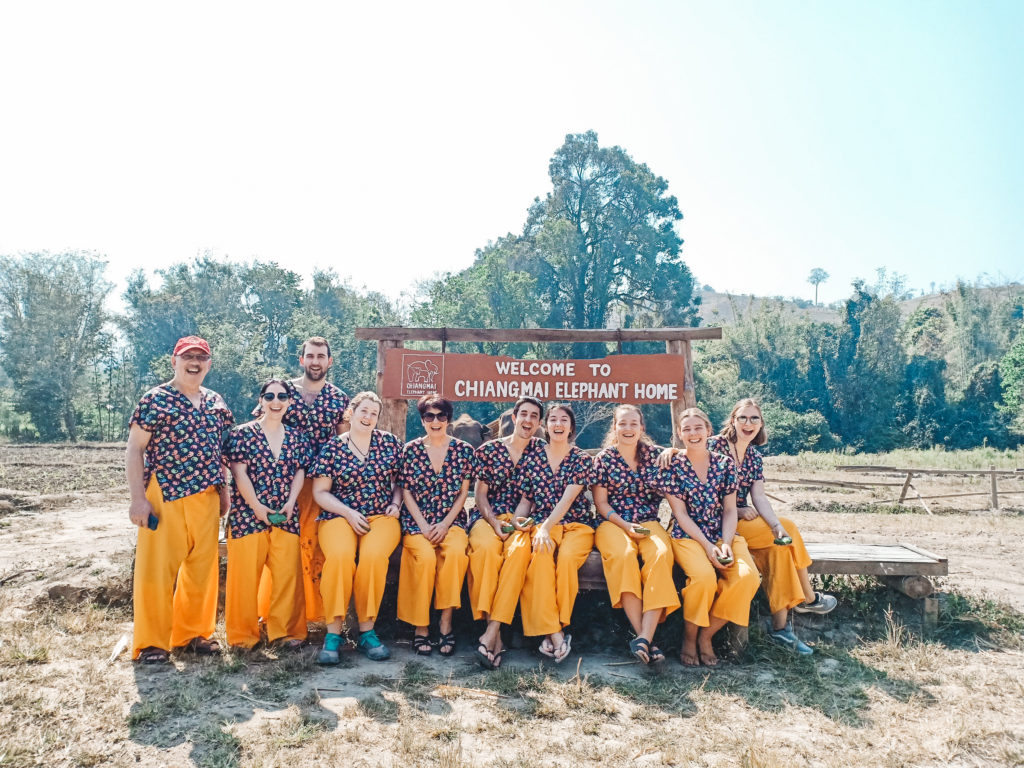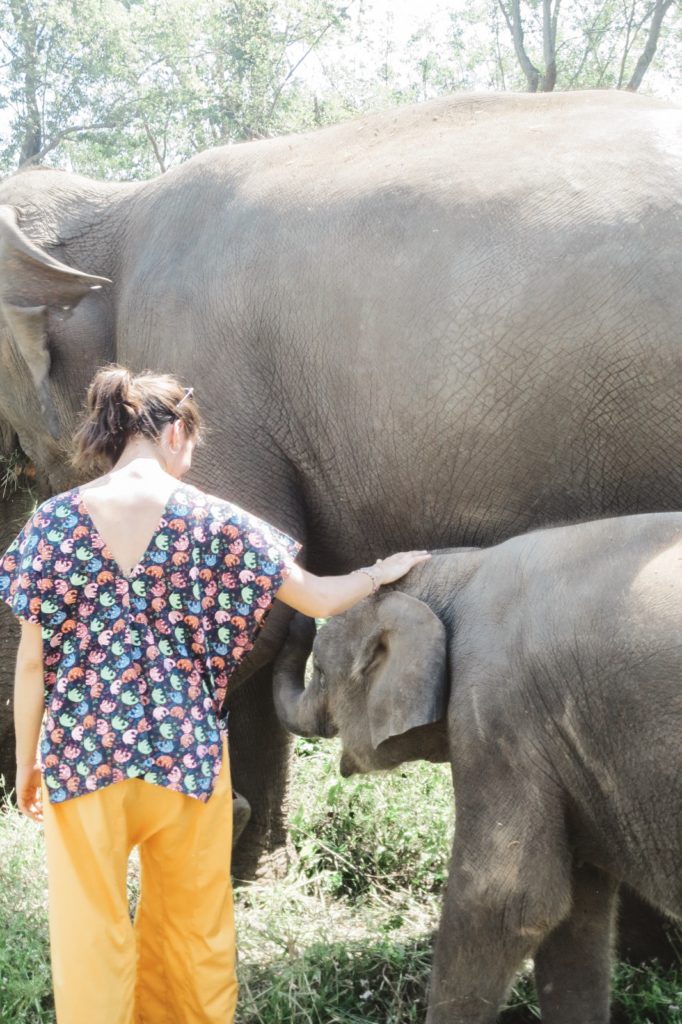 Researching about Chiang Mai, I really adored this concept of activities that were respecting the elephants while allowing to do fun activities with them. I knew riding elephants was still a thing and that unfortunately, elephants are abused and tortured to handle carrying humans around, so I was happy to be able to spend a time with them respecting them.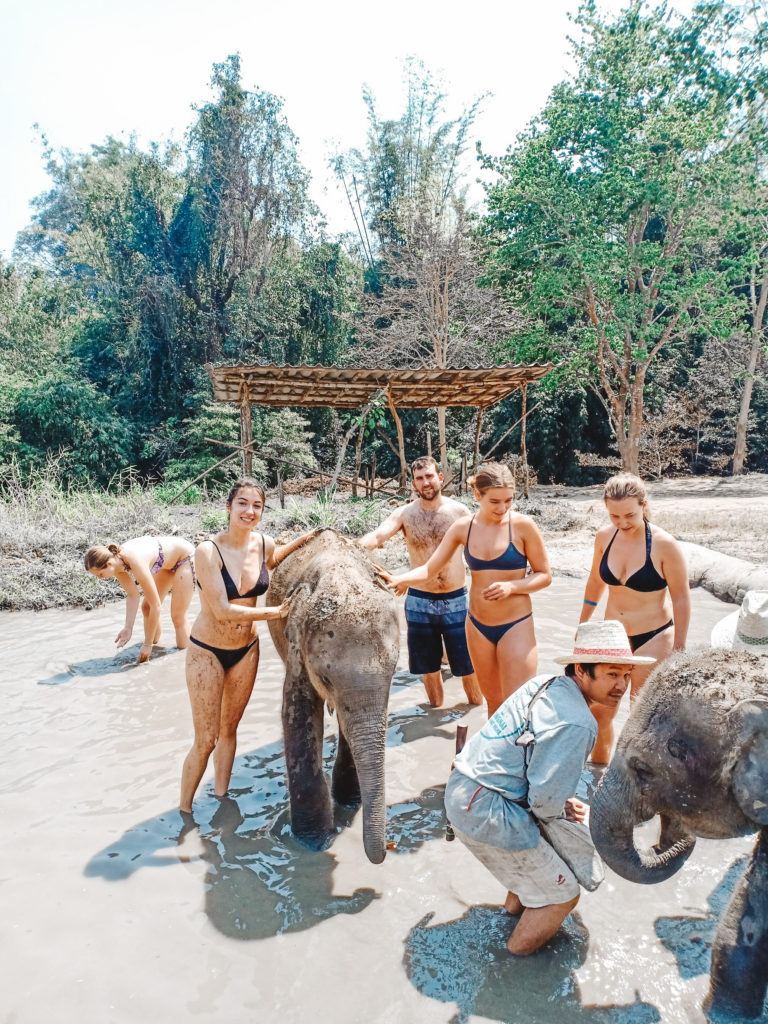 I chose the sanctuary Chiangmai Elephant Home that seemed to be one of the funniest and most respectful of the region. I think I made the right choice! There, the elephants are almost free (meaning they are not chained, there are very few fences…), well treated and each of them is followed and cared by a special guide. The moments we spent with the elephants are short enough not to bother them too much, and long enough to enjoy it 10000%. In the 1 day formula we chose, we have been picked up at our hotel at 8h30, and left the sanctuary around 17h.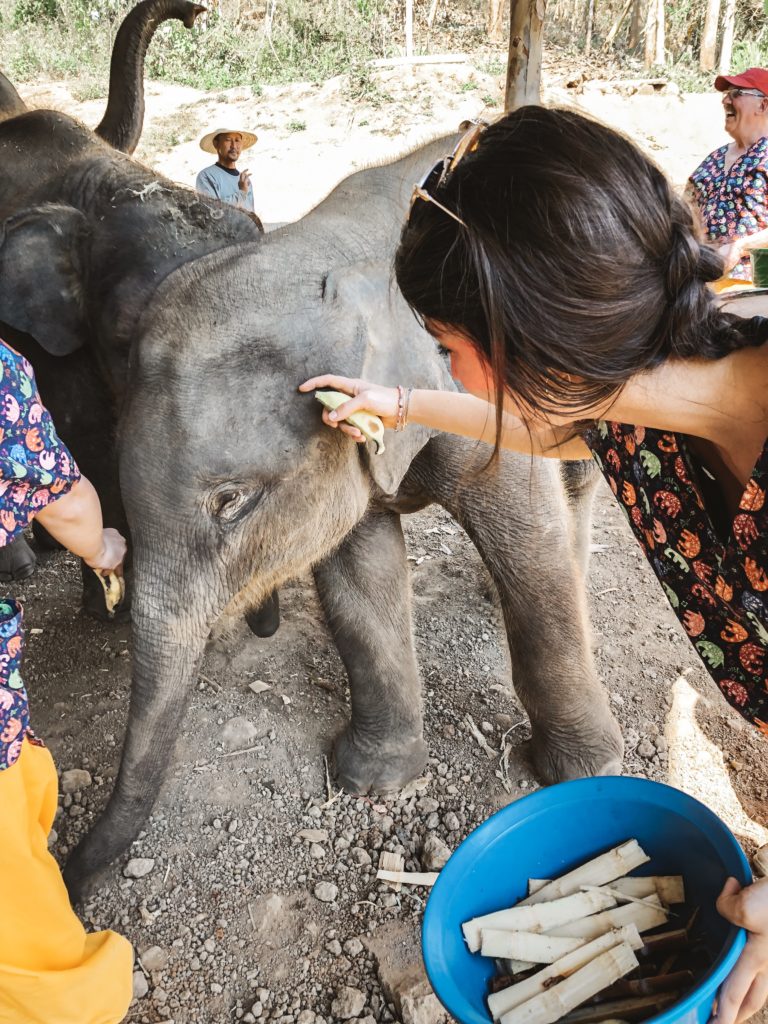 With a local guide, we started the day learning more about the elephants of the shelter (there are six in total, with a pregnant mom and two babies!), and their lifestyle. We prepared them vitamins balls (with bananas, rice, brown sugar, and tamarin), cut sugar canes (avoiding their trunk that wanted to steal them!) to gave them later, and then fed them and walked with them in the fields. The elephants were free of their movements, watched by their guide but never forced. They truly seemed to appreciate those moments, trying to steal us our food, playing with each other, the babies running towards us in seeking of food and hugs…so lovely!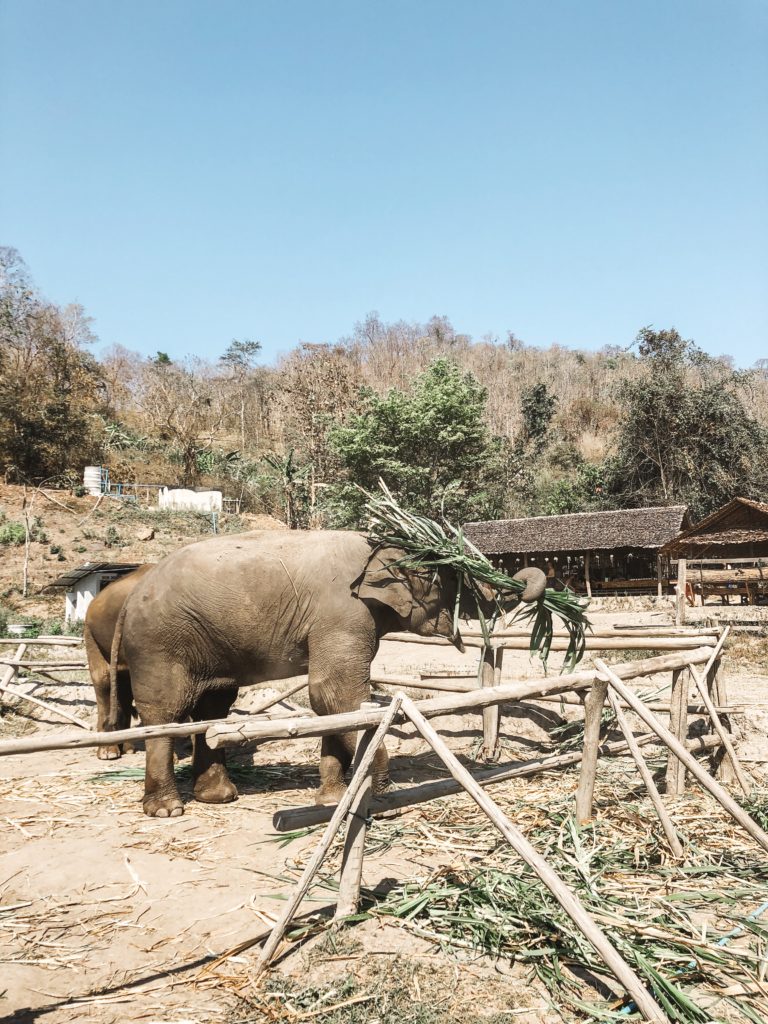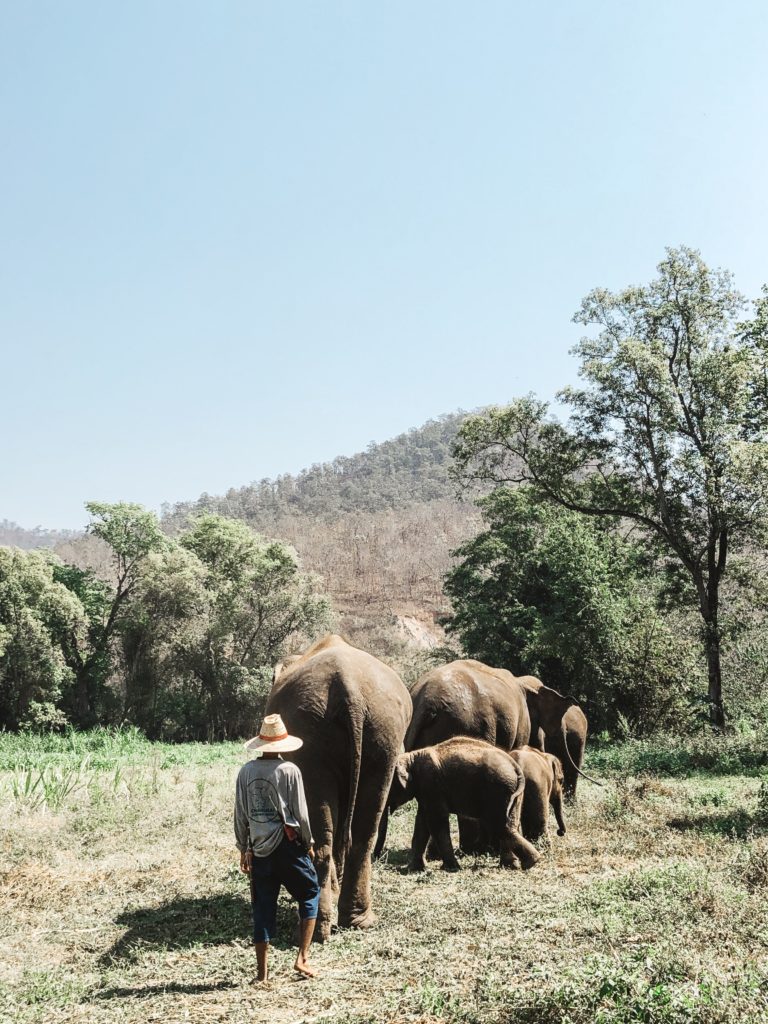 The day went on with a local lunch, a little siesta and a mud bath and a bath in the river with the elephants. Once again, the elephants seemed to be in their elements, happy to be bathed and massaged! We took a last picture with them, and it was over, the elephants were coming back to their homes! Our day ended at a waterfall for a swim, it was amazing!
Infos : website of ChiangMai Elephant Home
The sanctuary offers an entire day with the elephants only, or with farming and waterfalls activites as well, half a day, or 2-3 days with them and with trekking as well!
Price of the day : 2400 baht per pax (67€)
Do a trekking in the national park of Doi Suthep-Pui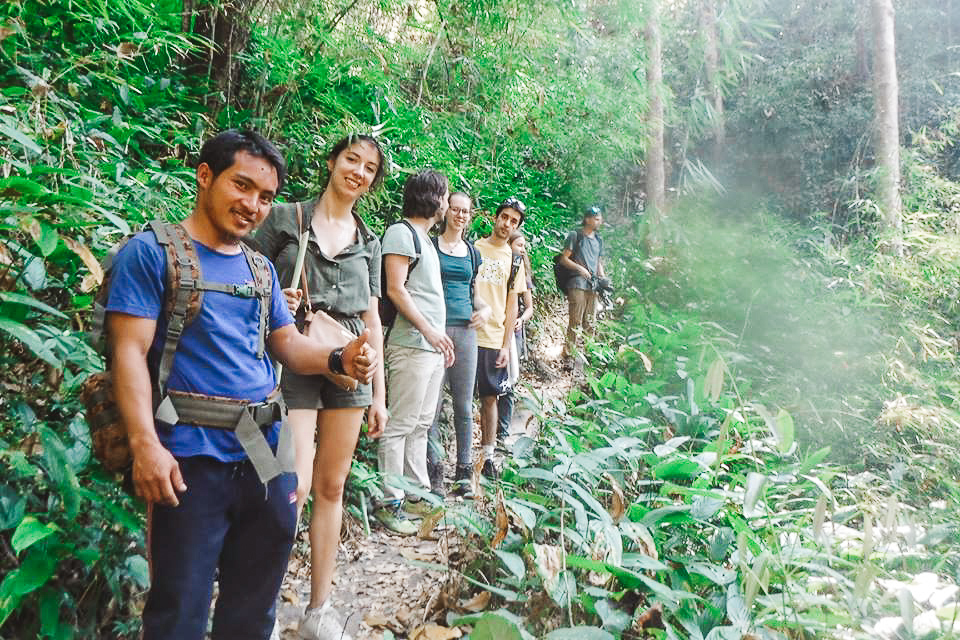 Looking for activities to do around the city, we encountered this offer to do a day of trekking in the national park near Chiang Mai with stops at waterfalls. We were instantly convinced by this day that looked rich, easy to do and stunning.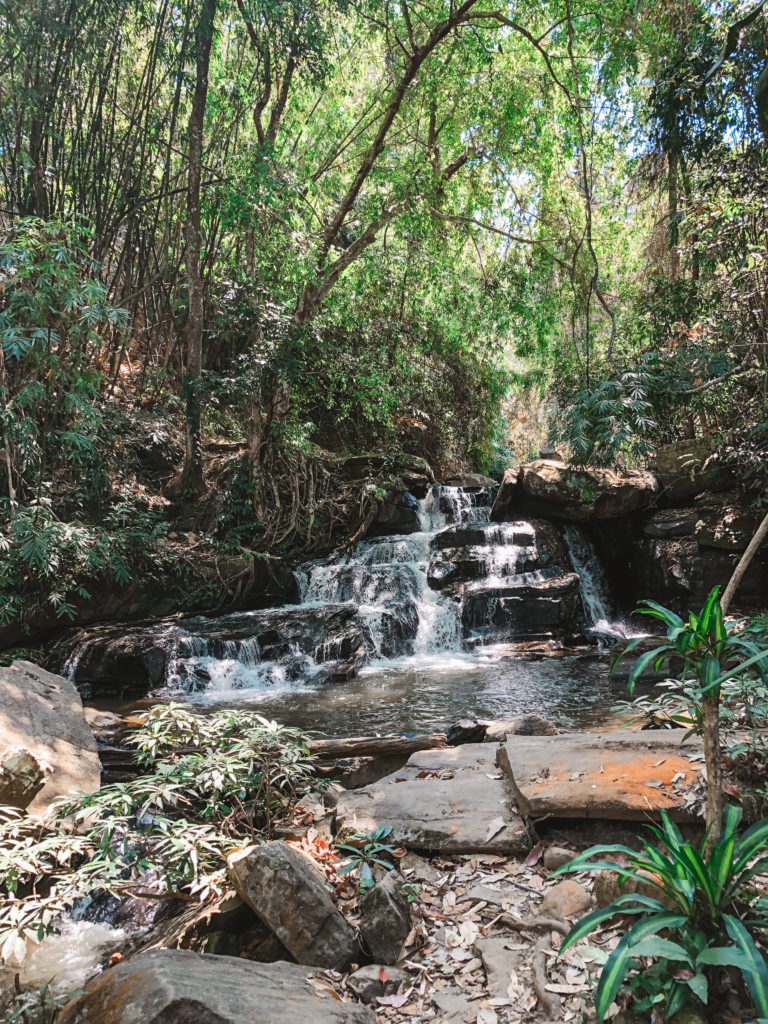 Result: 18km of trekking, an intense day of walking and climbing, very narrow paths and some very slippery…but an amazing experience and an immersion in the Thailandese nature we won't ever forget! The local agency fooled us a bit saying it was to do and we would a lot of waterfalls (we did just three and just swam in the last one), but we spent a memorable day in the jungle with our two guides discovering the nature, plants and animals around us. Our main guide, Peck, from a very tiny village in the heart of the national park, was very cheerful, funny and gave us tons of info on the plants and animals we would see. Full of energy, he even knew some French expressions, and designed me during the day a crown of leaves and a hat made out of a banana leave, to protect me from insects and the sun…so nice!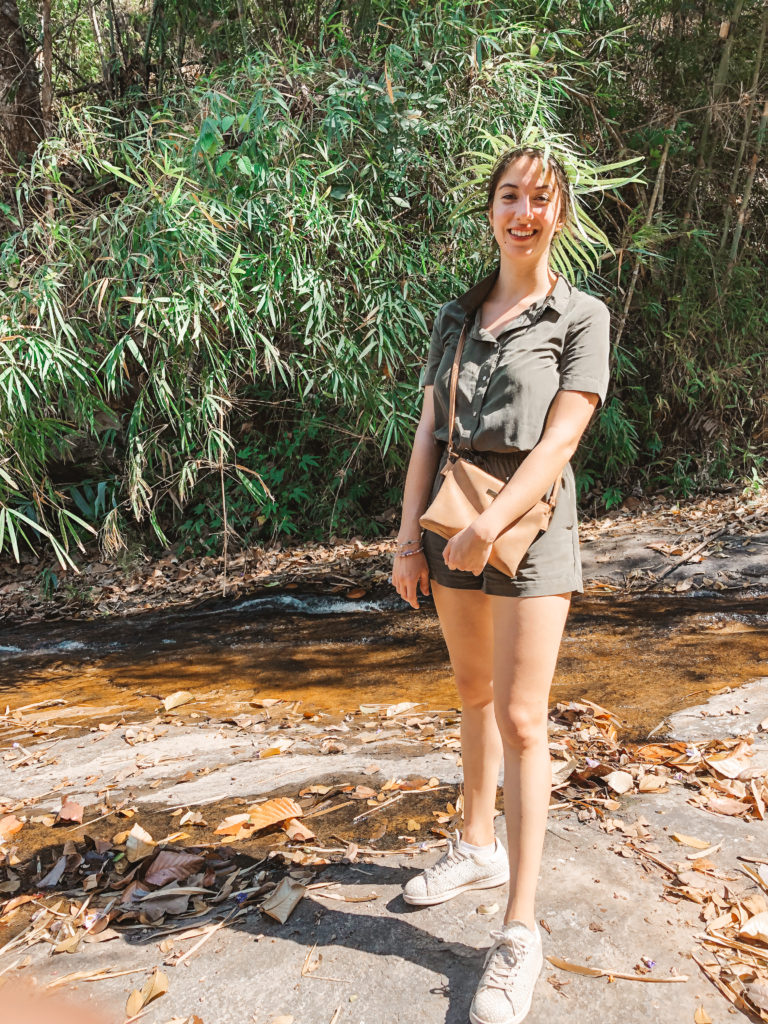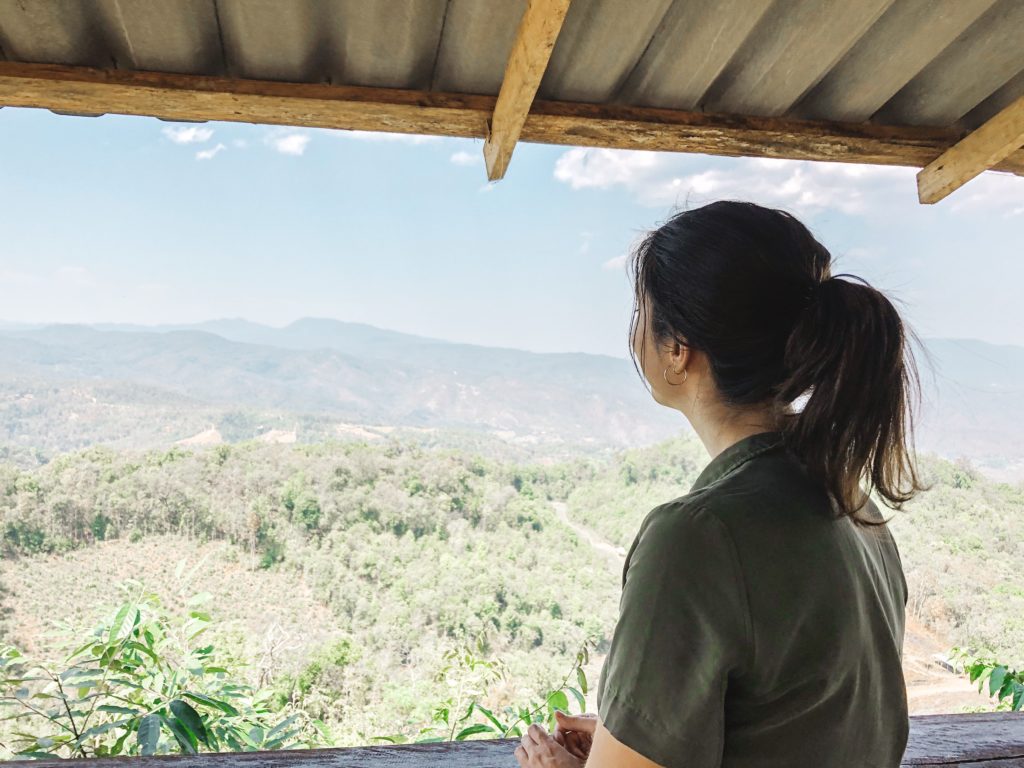 If we chose the package "One Day", the tour company Maewin and Family Trekking also offers 3 days-2 nights trekking.
More info here!
Visit the Golden Temple Doi Suthep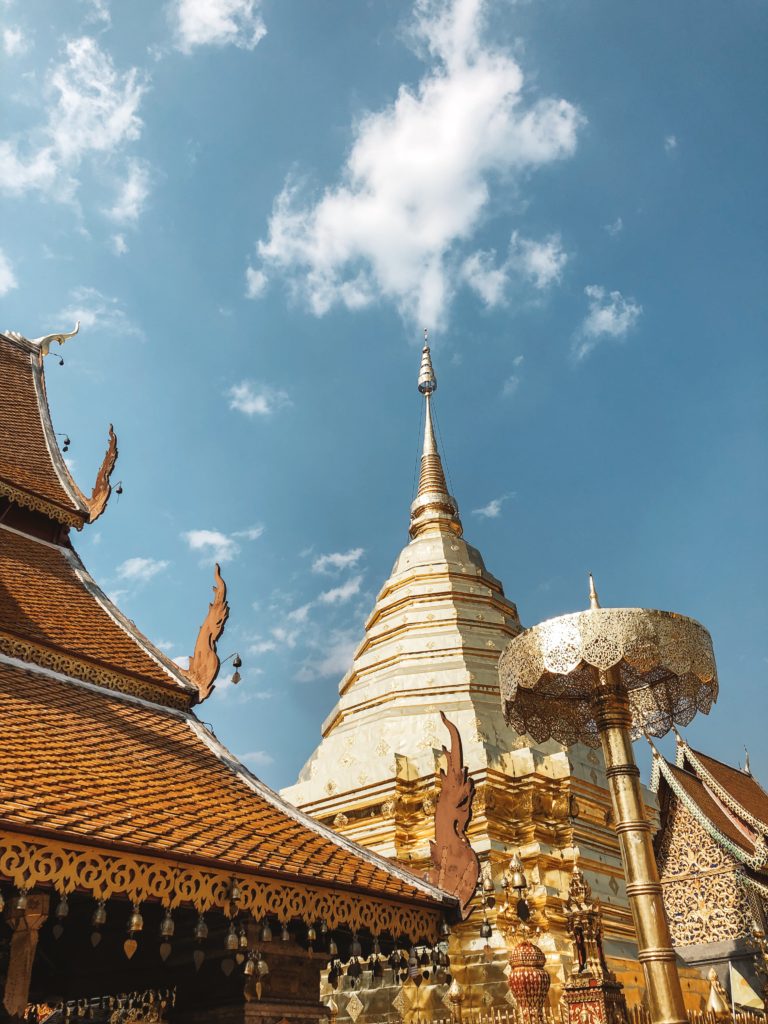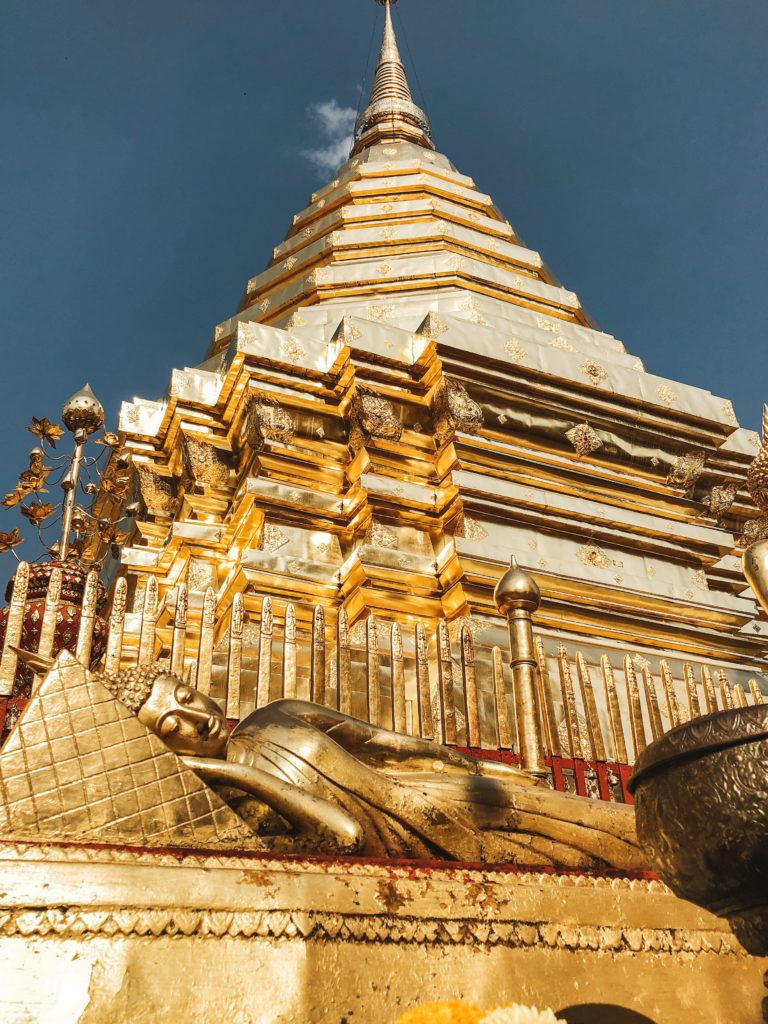 The Doi Suthep Temple is a must-do if you visit Chiang Mai. Located outside of the city in the national park, this huge golden buddhist temple is one of the most impressive places I have ever visited. Not only this huge golden temple is impressive by its color that shines under the sun, but it is also a very important place spiritually speaking as it protects a relics of Buddha. Many local tours will offer you to visit it, but I recommend you to take the one with Hmong Village as well, to stop before at a local village of artisanal goods to shop some souvenirs handmade by the locals!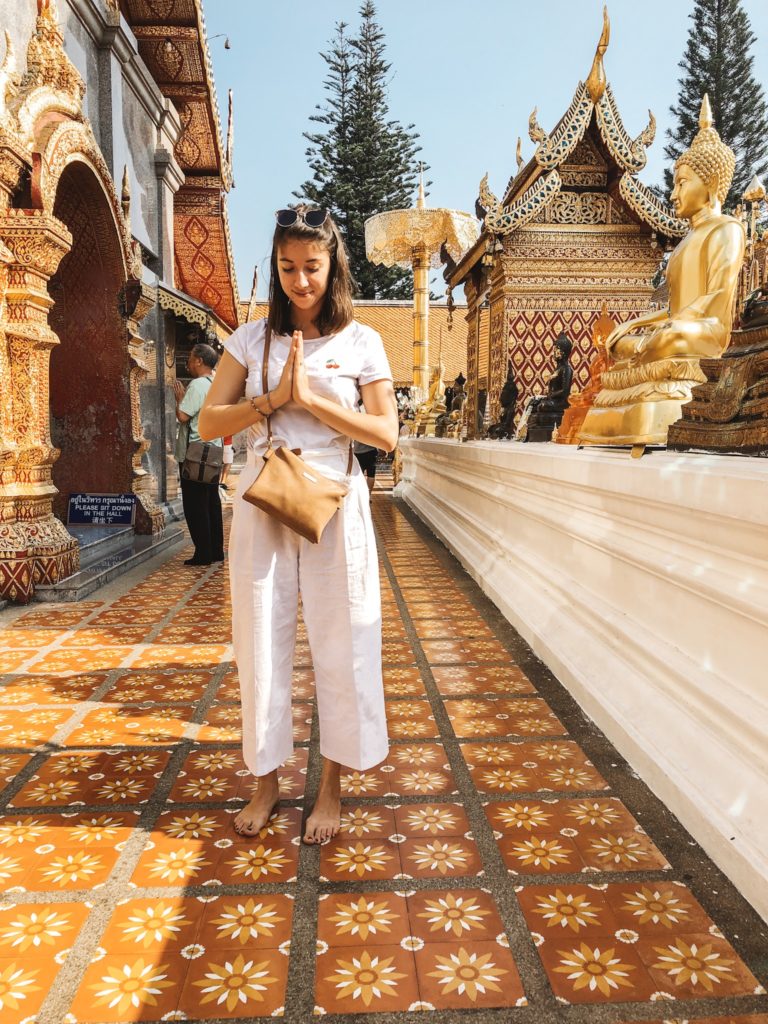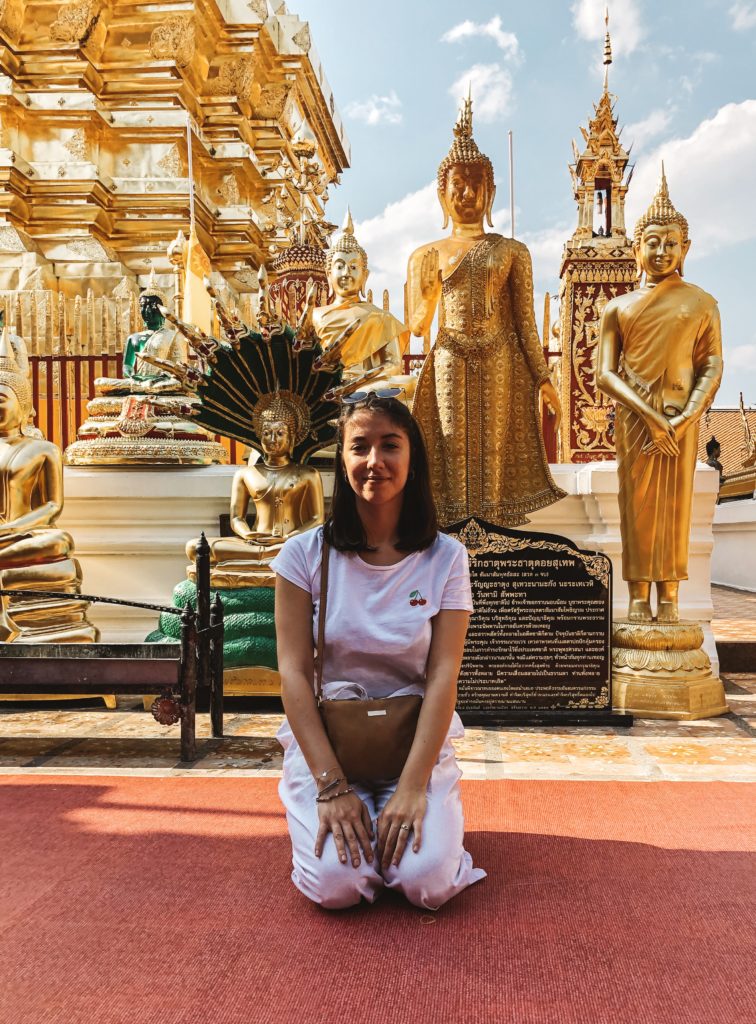 Visit Wat Chedi Luang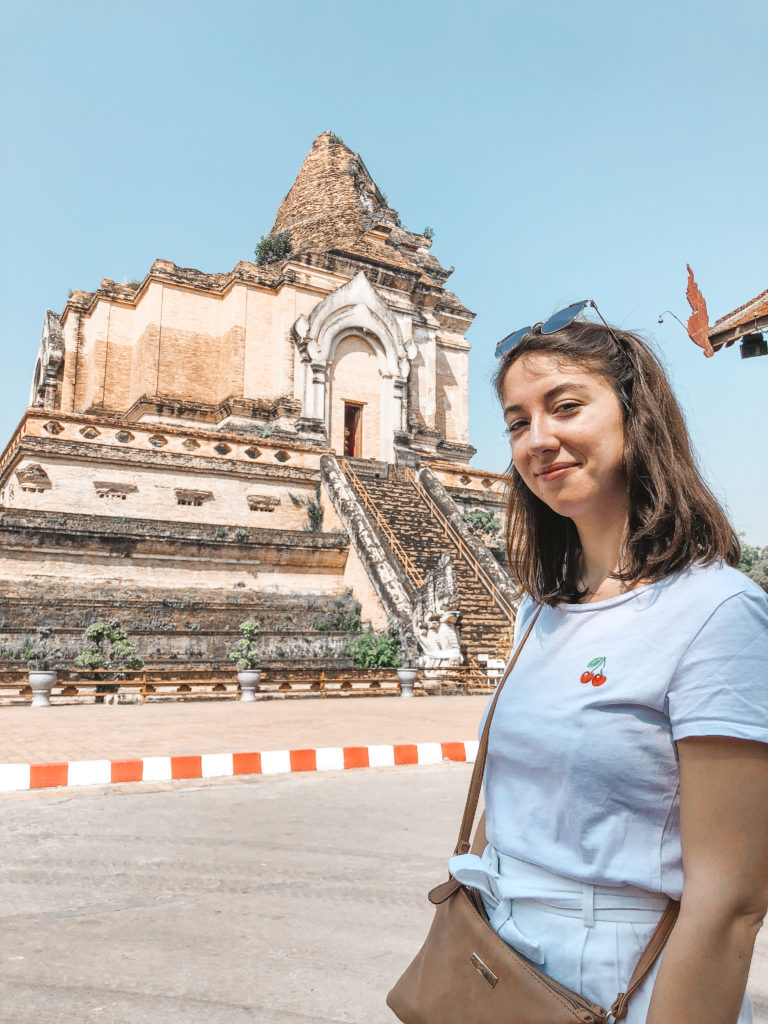 Wat Chedi Luang is an ancient buddhist temple from the 14th century located in the heart of the historical Chiang Mai. You can't miss it with its tall Chedi half destroyed! If the visit is very quick, it is also very nice and it may occupy you a bit during the day!
Little bonus: there is a place with rainbow umbrellas at the back end of the temple dedicated to peace… it is so colorful and peaceful, I loved it!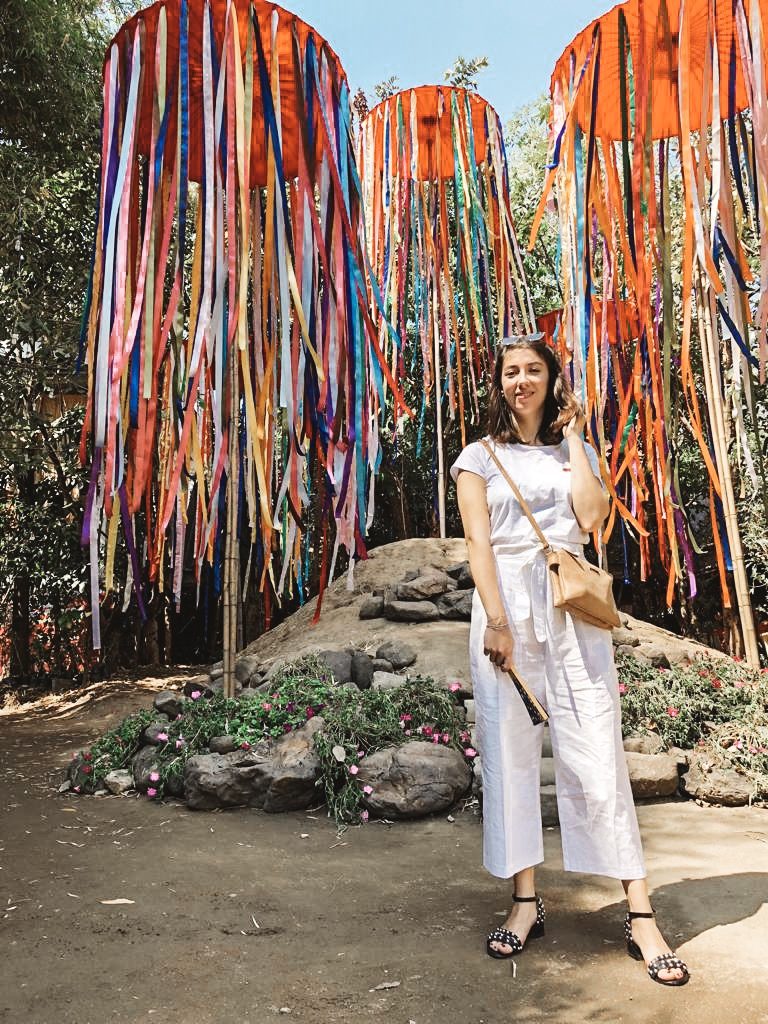 Do the night market of Chiang Mai
One of the main activities to do in Chiang Mai is its saturday night market. Starting in Wua Lai Road, the market spreads on several streets around with stands of crafted goods, souvenirs, and even a square dedicated to food. It's a good activity to do at night, but it's very crowded and a bit repetitive.