My best natural tricks to take care of your hair!
My hair has always been very important to me, and since I switched to solid shampoo 4 years ago, I've always been careful to use natural products.
For the past few years, I have been accumulating and testing simple and natural tricks to make my hair shine and give it strength and vigour. Today, I am sharing them with you, so that you too can have a radiant mane.
Use cider vinegar in rinse water
It's an old grandmother's trick known to those who favour natural or zero waste, but I confess I only adopted it last year. I use the cider vinegar in the rinse water, once my hair has been rinsed a little from the shampoo, and it clearly makes a difference!
My hair is super soft and much shinier when I use the cider vinegar, I'm amazed. The smell is not too strong and goes away quickly after drying. For a bottle of cider vinegar, you'll be using it for months, so it's the ideal tip to adopt if you want to reduce waste in your bathroom!
Instructions for using cider vinegar in rinse water :
Take a glass and put a little of cider vinegar in it.
Shampoo normally and rinse once with clear water.
Put the shower water in the glass with the vinegar, and gently pour the mixture over your hair.
Be careful not to spill it in your eyes or on your face.
Lather the vinegar on your hair for 1 minute.
Rinse with water
Rinse your hair with cold water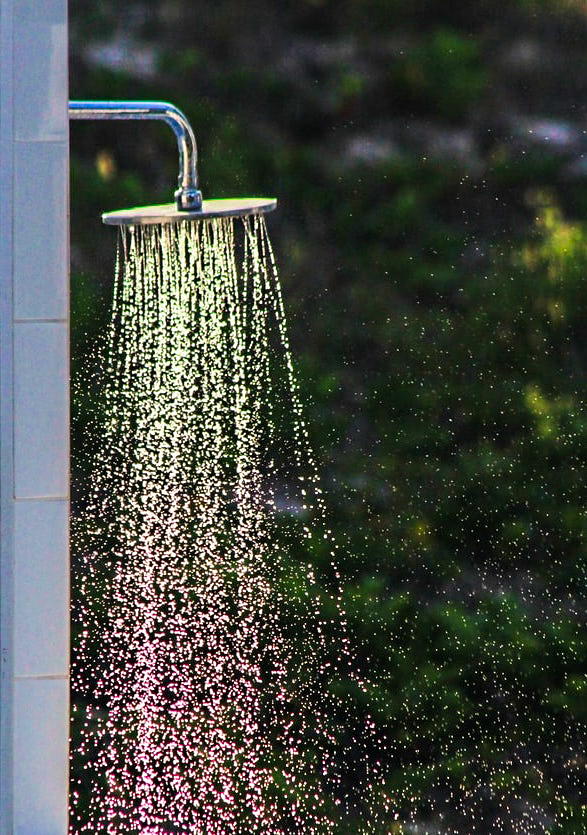 It may sound scary when you say it like that, but I assure you it's worth it!
Rinsing your hair with cold water helps to close the scales of the scalp and protects your scalp. For an optimal washing of your hair, it is advisable to rinse your hair with cold water after all your care is gone, in the final rinse water.
You have to get used to it because cold water is really not pleasant, but I find my hair much shinier and softer when I do it. Plus, it wakes you up and allows you to get out of the shower with clear and fit ideas to start the day!
Wash your hair upside down
I adopted this technique 2 years ago now, and believe me I don't regret it! My hair tends to get greasy easily, and even if I wash my hair well, the shampoo can give me a "sticky / greasy" effect to a few strands from underneath, which is not very flattering when you have just washed your hair.
What I've learned is that by washing my hair upside down, I also wash that part near the scalp that was neglected before, and helps regulate my sebum better while loosening my roots. So, I always start my shampoo normally on the top of the head, then I throw my mane down to take care of the underside and shampoo it properly.
When rinsing, I also take care to rinse the top and bottom of my hair to remove shampoo and conditioner residue EVERYWHERE. It's really a perfect tip to prevent your hair from getting greasy and have 100% clean hair!
Make a mask with natural ingredients
The hair care market is full of all kinds of hair care products, but nothing beats good care with ingredients from your own kitchen!
For a moisturizing shine mask, you will need :
1 egg
1 tablespoon of cider vinegar
2 tablespoons of olive oil
Beat the egg with the cider vinegar and oil. Apply the mask to your lengths, taking care to avoid the roots. Cover your head with a hairnet or cling film and leave on for 20 minutes.
Rinse your hair lightly under cold water, then apply a little shampoo. Shampoo first to remove excess oil. Repeat a normal shampoo with emphasis on lengths. Rinse with cold water!
There you go, with all my natural hair tricks, your mane should glow with shine and say thank you! Don't hesitate to share your favorite natural tricks with me in comments!